The Local's Hideout
30 Jan 2013
Good times for all is the mantra at this local hangout, but you may need your GPS to find it.
By COLLEEN TROY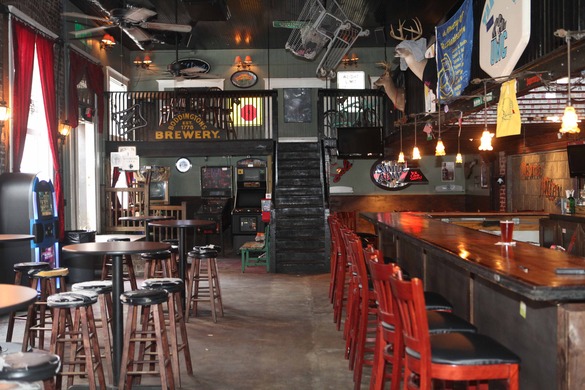 It's an hour before tip-off at the College of Charleston arena, and Burns Alley is packed to the gills. Fans, alumni, exceptionally tall former players, regulars and folks who just happened by all join in the merriment as the Cougars prepare to take the court.
Fast forward to another day ― a quiet Wednesday evening ― and Burns Alley is a different place. Local artists mingle with retailers; improv artists from Theatre 99 out-do each other at one table, while grad students grab a beer with their professor at another. It's very cheerful (perhaps even Cheers-like) in this tucked away alley off King Street.
And that's just the way its owners conceived of Burns Alley when it opened in May, 2006. Arriving on the local scene around the time Charleston's food and beverage reputation began to soar, this is the kind of play locals cling to. Festooned with bar games and Tar Heels memorabilia, Burns Alley isn't simply a sports bar. It's a bar that exists for the purpose of serving its clientele cold beers, warm welcomes and a place to just hang.
Mike Ward, one of the founding partners, takes time to chat before the doors open at 6 p.m., and the happy hour crowd arrives for the daily, 90-minute deals. "We tell people if they can find us, they won't forget us, and it's true," he says, signing for delivery of one of the eight (draft) craft beers that Burns Alley serves at any given time.
"We opened this place to serve the community, and people discovered us pretty quickly." The partners (who include T.J. Scott and a silent third party), "got lucky" when the College of Charleston located its new arena smack dab in their back alley. Now, game days find the bar busy (they open an hour before tip-off, fill up during half-time, and kick it into gear again post-game).
But that's no match for the spring Saturday that brings the Cooper River Bridge Run. It's their biggest day of the year; doors open early and stay that way until late. Otherwise, Burns Alley serves from 6 p.m. until 2 a.m. Monday through Saturday, with a later start at 7 p.m. on Sundays.
"People have figured out we're not a sports bar. And we're not a dance club. But if people want to move tables and dance, then hey, we're happy to oblige," Ward said. In fact, the bar often hosts live, local music on weekends. Amble in one night and you might encounter a member of The Blue Dogs, or of Steve Miller's traveling band.
No matter the vibe the crowd is bringing, the team at Burns Alley subscribes to the notion that they are in the hospitality business, period. Bartenders are carefully selected for their friendliness and work ethic.
"We're not a cocktail lounge, or a sports bar. We're a place to come with friends, meet new people from all walks of life, and all ages. It's really a microcosm of Charleston," says Ward.
Hungry? No worries, guests can order anything they like from local restaurants and have it delivered right to their table. Meeting a big group?
No worries, there's always room. In the end, this is truly a hideaway (one of its two entrances is through the back of La Hacienda) that is worth discovering. â– 
Burns Alley Neighborhood Bar 354-B King St., Charleston 843-723-6735 Mon-Sat, 6pm-2am Sun, 7pm-2am www.burnsalley.com