The Scrumptious Summerville Kitchen Tour
01 Sep 2012
Sampling delectable eats while perusing stately homes is a combination that has been met with great fan fare at this annual fundraiser.
By BOB INGRAM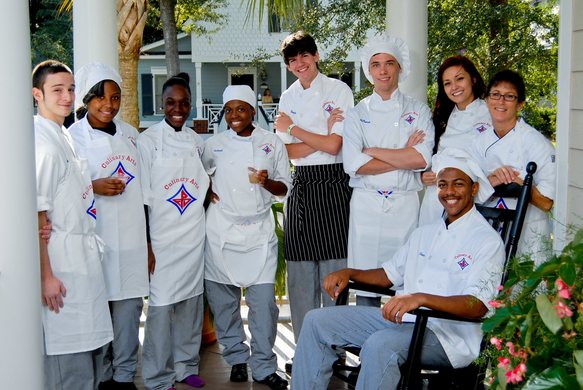 A
s with all non-profit organizations, looking for ways to raise both money and awareness of your cause is something that is a continual process. The Scrumptious Summerville Kitchen Tour started in 2003 as a way to raise awareness of the Dorchester Children's Center – Children In Crisis and has since evolved into a major fundraising event that brings people into Summerville from all over the country.
Proceeds from the event raises funds for Children In Crisis, Inc., a 501(c)(3) organization which operates Dorchester Children's Center, the only Child Advocacy Center in Dorchester County serving abused and neglected children and their families. The center is extremely proud to have provided services for over 5,000 children since opening its doors in December of 2003. These services include forensic interviews, forensic medical examinations, and child and family therapy sessions.
As quoted by Kitchen Tour Chair Marlena Myers, "Every year, we see the need for our services to the children of our community growing. It truly speaks volumes that so many people step up to the plate and support this amazing event."
The Scrumptious Summerville Kitchen Tour showcases Summerville and its historic beauty. A neighborhood or series of streets is selected each year and homeowners open their homes to the public for one afternoon in the Fall. Usually 10 to 12 homes are on the tour. Lowcountry Chefs from some of the region's most notable restaurants are placed in the kitchens, gardens, and patios and prepare a 'tasting' of their cuisine to each guest. The Chefs donate their time, expertise, and food. Local musicians are placed throughout the homes and gardens on the tour and share a variety of vocal and instrumental talents. Area florists create stunning arrangements to enhance the décor of the homes, and local artists also display their works throughout the homes.
This year the 10th annual Kitchen Tour will be held on Sunday, October 7, 2012, from 1:30-5:30 p.m., rain or shine. Guests will experience Southern hospitality at its best - while visiting stately homes, captivating cottages, and charming gardens as they sample creative cuisine and decadent desserts. Many of the homes on this year's tour are reminiscent of the lifestyle that led Flowertown-in-the-Pines to change its name to Summerville. There are homes both stately and impressive as well as spacious cottages with wide porches to capture the summer breezes. In its early days, many Charlestonians had their formal homes in the city, but built equally lovely homes to have a place to escape when the city heat became too oppressive. The man of the house frequently took the train from the town depot and commuted to the city each day. It is no wonder the town changed its name, as it became a destination for all those seeking gracious and relaxed summer living.
The Kitchen Tour will welcome back a number of popular chefs and restaurants from previous years. Oscar's Restaurant and the Fort Dorchester High School Culinary Class have participated all 10 years since the Kitchen Tour began. The Boathouse will mark their 7th year; Healthy Home Foods returns for their 6th year; and both Ladles Soups and The Perfect Wife mark their 5th year of participation. The Firewater Grille is participating for the 4th time while Gilligan's Seafood Restaurants and Legend Oaks Golf Club each return for the 3rd time.
Other returning restaurants include Alessandra's Italian Eatery, Atlanta Bread Co., The Ice House Restaurant, Madra Rua Irish Pub, and Matt's Burgers. Several more restaurants are still under consideration.
Several new restaurants will be participating this year, including Bubbie's Bakery, Pot Kettle Black Catering, and Barista Beverages will be a new coffee station.
The Charleston Tea Plantation, Coastal Coffee Roasters, Single Smile Café, and Summerville Catholic School return to provide beverage stations, and a new coffee provider will be Barista Beverages.
This year the Kitchen Tour will be a compact, 'walker-friendly' route along both sides of West Carolina Avenue just south of Central Avenue. These are the homes of Ms. Karen Peterson, 414 West Carolina Ave., Mr. & Mrs. Jim Hamilton, 416 West Carolina Ave., Ms. Jonea Crider Adams, 418A West Carolina Ave., Mr.& Mrs. Jake Bigham, 418 West Carolina Ave., Mr. & Mrs. Jacob Sunding, 419 West Carolina Ave., Dr. & Mrs. Marion Woodbury, 420 West Carolina Avenue, Mr. & Mrs. Mark Musselman, 422 West Carolina Ave., Mr. & Mrs. Dennis McCollum 428 West Carolina Ave., Mr. & Mrs. Ricky Waring, 433 West Carolina Ave., and Mr. & Mrs. Darryl Bullock, 108 Dan Miler Lane.
Sponsorship opportunities are available starting at $300.00. Event sponsors will receive an invitation to both the Sponsor's Gala on Saturday, October 6th, to be held at Bud & Peggy Knight's Party Barn, with a theme of "Fire & Ice", as well as tickets to the Kitchen Tour. A major portion of the sponsorship price is tax deductible. Individuals and businesses may inquire about sponsorships by visiting the website, www.scrumptioussummerville.com. Individual tickets for the tour are available at $50.00 each, in advance online, or by calling (843) 875-1551. Special lodging packages are also available via the website.