Wedding Bell Blues in the Turks & Caicos Islands
30 Jan 2013
Here's a multi-island paradise that's perfect for exchanging marriage vows – or perhaps renewing them.
By KATHERINE PETTIT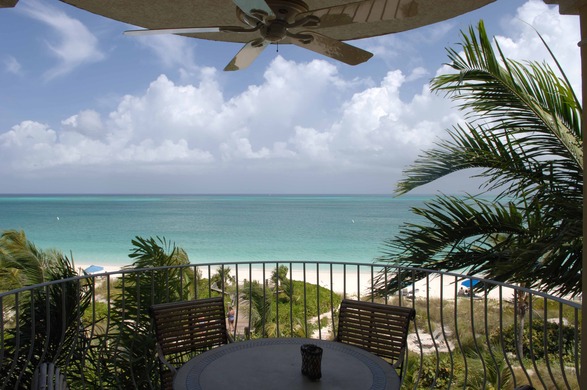 Let's be upfront about this. I was not happy when my son announced that he and his fiancée planned to get married at Providenciales, in the Turks and Caicos Islands. What about all the family members who couldn't attend? Or the problems in planning from afar? Or the cost? And then Conde Nast called Grace Bay the "World's Best Beach." I wasn't feeling it.
However, the decision had been made. Turks and Caicos it was. And the planning began.
Arrival
A three hour flight from Charlotte, Providenciales International Airport is tiny by global standards, but customs is efficient and the moment you step out into the sunlight, you know you're in a special place, called Provo by those in the know.
A cab delivered us to our hotel, the small, historic Sibonné. Yes, it's older, and with only 30 rooms, one of the smallest hotels on the island. However, the prices were great and it was right on that beautiful beach. The on-site Bay Bistro restaurant is considered one of the best on Grace Bay, and the bar area is inviting. The interior courtyard is lush with overgrown tropical plants, filled with birds, and sprinkled with seating tucked away under palms. The birds liked it as much as we did.
Several others in our party opted for more luxurious resorts along Grace Bay. There are many, including the Tuscany, Regent Grand and Villa Renaissance, to name a few, all perfectly positioned on Grace Bay, as we were. For us, all-inclusive would have been a waste of money, since there were dinners planned in several different locations.
Food
There are many great restaurants on an island that covers less than 38 square miles and is an overseas territory of the United Kingdom. Accents are British, with a Caribbean lilt. Food is Caribbean, with an emphasis on seafood, of course. From personal experience, here are a few of our favorite restaurants.
Coyaba (the word means "heavenly" in the Arawak Indian language) is the gazebo style restaurant where we entertained the 16 friends and family who made the trip. Understandably nervous from planning this gathering from afar, we walked into our reserved area, where fresh flowers adorned the tables and wine waited to be poured. Everyone ordered from the menu, and all sixteen meals arrived within seconds of one another – impressive. It was superb, from the Gnocchi Cambazola with toasted pecans, fresh parmesan and sundried tomato pesto, to the Lobster Boulliabase. Our grandson ordered his first-ever Lobster Thermador, which his grandfather gamely agreed to consume if it wasn't to the youngster's liking. I don't think Grandpa even got a taste. The food is described as fine, eclectic contemporary Caribbean Cuisine. That's as good a description as any. Desserts vary, but one taste of our daughter's pot au chocolate with edible gold leaf made me swoon. Everyone was very happy.
Magnolia's Wine Bar and Restaurant, perched on a tiny hill, wins hands down in terms of view on this very flat island. Their outside tables offer a view of the marina and as the sun sets, twinkling lights create a magical atmosphere. The New York Times has recommended it and we thoroughly enjoyed the hilltop setting, attentive service, and the sesame-seed-and-cracked-pepper-crusted rare seared tuna – divine. Their wine list is wonderful. Go ahead and decide to splurge when you make your reservations, and dress for this one.
Bay Bistro Restaurant was the site of the reception and dinner after the wedding, and it proved as memorable as other meals we had enjoyed. The chef has been here for more than 20 years and has an award-winning way around conch (an island staple). Try the Princess Conch and Mushroom Crepes -- tender conch and earthy mushrooms wrapped in a delicate crepe with roasted red pepper pesto and cream sauce. Pecan encrusted grouper, a jerk lamb, and more innovative conch dishes are popular. Plus, its position as the only truly on-the-beach restaurant in Grace Bay gives it an atmosphere which can't be surpassed. It was a wonderful evening enhanced by beautiful surroundings and exquisite, food.
Things to do
Weddings are fun, but even the best of them don't last for four days. What were we to do on this tiny palette of sand and surf? We found plenty of activities to showcase the island and the bluest water I have ever seen.
On the beach: parasailing, swimming, sunbathing, imbibing, walking, kayaking, snorkeling – it's all good. You can go horseback riding on the beach as well, and although we didn't opt for that, I am sure it would have been a memorable experience.
Take a boat: ferries visit other islands, or take you to uninhabited cays that have boardwalks meandering through sand dunes, wildlife and ruins. You can go fishing, sailing, rent a jet ski, or simply explore –there's much to see.
Visit the conch farm: I know, I had misgivings, as well. After all, they aren't very active creatures and we'd been eating them for three days. But, when in Rome … and so off we went. I loved the experience. Jerry and Sally are the resident performing conchs and they will actually ooze out of their giant conch shells and get rubs on their enormous feet (it looks like a giant tongue, but it's called a foot). I bought two queen conch shells and brought them home (tourists are very limited in purchasing these beauties – after the conchs have been removed, of course.)
Go to the park: The 6,500 acre Princess Alexandra National Park is a protected area and one of the Caribbean's best snorkeling areas. .You may well see iguanas, ospreys, mangroves and marine life at the park, which includes parts of Grace Bay.
Shop: OK, this isn't a shopper's paradise, but I found some very talented artists who either live on Provo, or sell their creations on one of several galleries. Anna's Gallery specializes in the work of Anna Bourne, who creates marvelous silk paintings in Caribbean themes. Art Provo Gallery featured prints, jewelry and pottery by local artists as well as paintings by international artist, Sandra Knuyt. I found beautiful sea glass earrings and a pendant – some for me and some for gifts. Lovely.
The Bamboo Gallery is another option, and sells Haitian and local art. I found a wonderful painting to bring back and offer the newlyweds on their first Christmas.
The local IGA market is another unlikely resource. For sale were unusual Caribbean sauces (including Trinidad mustard) to bring back as stocking stuffers.
All in all, if you view shopping as a ritual part of your vacation, you may be disappointed since you can go through almost all the stores on the island in several hours.
All good things
Too soon, the wedding was history, the sixteen of us had become good friends, and it was time to return home. When we visit again, we'll go back to our favorite restaurants, and spend more time on the water. Perhaps we'll even try visiting another island or two, during our stay. For sure, we know we'll eat well, play hard, and enjoy watching sunsets over the bluest water in the world.
Website: www.TurksandCaicosTourism.com
Potcakes
In the Bahamas and Turks and Caicos, stray dogs are called "potcakes" because the locals feed them the leftovers from the bottom of their cooking pots. Thought to be a mix of Labs, German Shepherds and English Fox Terriers, the dogs are sweet tempered, smart and loving. Unfortunately seen as nuisances in tourism-dependent islands, they've often been shot or poisoned. Several years ago, Provo resident Jane Parker-Rauw began a program which has involved countless volunteer hours and dollars. If you want to adopt a potcake, there are returning tourists who will bring the little fellows back and deliver them safely into their new families' arms.
Luckily for Indie (her new American name), a couple who attended the wedding decided they needed a potcake. And so, one more stray dog found a home stateside. It's an interesting program which is making a difference, and made the island even more endearing, somehow.