Suit Your Groom
30 Jan 2013
Having an on-site storage facility makes finding the right look in men's formalwear for weddings and other formal gatherings a snap at Tuxedo Junction.
By AMY KEHM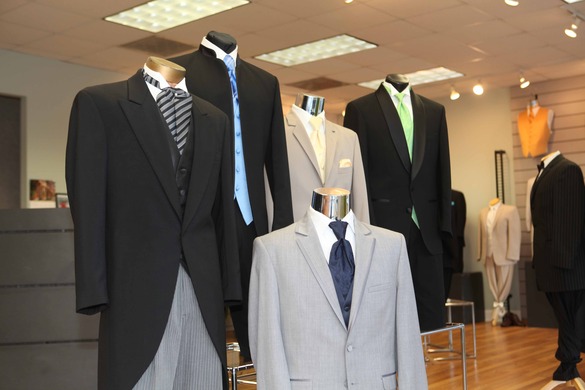 When folks want to dress to impress, Tuxedo Junction in North Charleston is the place to go. Owners Barry and Clarisse Johnson are ready to make their own impression, one that they hope will make you a repeat customer.
Tuxedo Junction aims to be the go-to place to rent or buy men's formalwear, whether tuxedos, suits, vests, ties, shirts, shoes and more. Tuxedo and suit jackets are available in a variety of colors and cuts while ties and vests showcase an expansive rainbow of hues and fabrics.
Their warehouse is right on site with more than 3,000 tuxedos and countless vest and tie combinations. That means what you need is already in stock, conveniently located in the heart of the Lowcountry.
The possibilities are endless and both Barry and Clarisse are ready to help you find your own, personal style.
"It's a joy," said Clarisse. "I think when people come through the doors they don't know much about formal wear. But when they get comfortable with us… I think it kind of takes the edge off."
Customers are greeted immediately no matter how busy employees are at the time. Barry and Clarisse go beyond a simple "hello." Instead, they greet customers with a handshake or even a hug, often immediately followed by laughter and questions about how the customer's family has been. Many customers have been shopping at Tuxedo Junction for years.
"He has a capacity -- a memory of people and for business and details and I think that's what really drives out customer base," Clarisse said of husband Barry. "He really does go the extra mile."
"First thing, we treat them like they're the only person who's going to come in the door," said Barry.
The formalwear business and business ownership are things that the Johnson's came into unexpectedly. A small seed was planted when Barry and Clarisse were just children. They have been together as a couple since they were just 10 years old in the Goose Creek area.
"Growing up, we always said we wanted to get married, have a family and own a business," Clarisse recalled.
Years later as they planned for their wedding, Barry began working part time at the shop to earn extra money. He eventually turned Tuxedo Junction, then known as Savvi Formalwear, into his full time job as a manager. He quickly learned the ins and outs of the business and excelled at customer service. In fact, he recalled one day when a customer left the store, but then returned. He asked Barry if he owned the store. After Barry replied, "No," the man told him that based on the customer service provided he predicted that Barry would one day be the owner.
Years later, the shop owner announced he was going to retire and sell the store. Barry worried because he and Clarisse had just purchased a home and made plans for baby number two. Clarisse suggested that they purchase the store themselves.
"He knew the business so well, it just didn't make sense to find something else," said Clarisse.
Clarisse worked at a bank and after meeting with banking representatives, the Johnson's made the purchase. Clarisse ultimately joined the store full time. The operation is truly a family undertaking and there is a good chance you could meet the Johnson's three children when you visit. In fact, four-year-old Jordan has essentially grown up at Tuxedo Junction, once sleeping in the back in his bassinet and now charming customers with his adorable smile.
"We have kids so we know how important it is to nurture them and show them that you can own a business," Clarisse noted.
"Everyone who works for us becomes part of our family," Barry added. "We are family here. We love what we do."
Tuxedo Junction contributes to its community. It serves as a business partner with Fort Dorchester and Stratford High Schools, donates tuxedo rentals to many causes and sponsors the Goose Creek recreation center's basketball teams.
Back at the shop, the Johnson's enjoy serving their community, one customer at a time.
"We get to see a lot of happy times," said Clarisse. "It's nice to be a part of someone's special event and someone's special day."
"I love helping people. We're not a business where you run into upset people," Barry said. "We're helping someone with something."
"Our best calling card is the way you feel when you leave here," Clarisse added.