Wings for Kids
06 Jan 2022
Program Leader Mallory Dorsey has helped local students soar for more than a decade
By Holly Fisher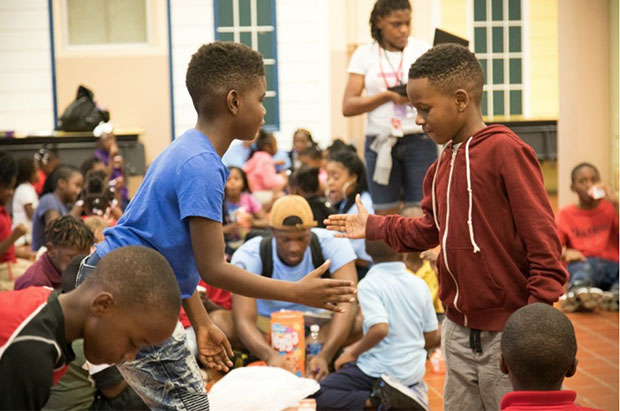 When Mallory Dorsey enrolled in the College of Charleston as a chemistry major, she had one career goal in mind: forensic scientist. She was ready to turn her obsession with forensics and crime into a profession.
She also loved working with kids. Several of her friends were part-time after-school mentors with Wings for Kids, a nonprofit organization that teaches social emotional skills to students at Title 1 elementary schools.
While her friends talked about how fun the work was, Dorsey's busy afternoon schedule kept her from becoming a mentor.
She did, however, volunteer at Memminger Elementary School in downtown Charleston as a mid-day lunch buddy and reading partner for fourth-grade students. Soon, an opening for an after-school mentor at Memminger opened up.
Dorsey – who had switched her major to sociology – was available now in the afternoons so she applied for the job. As a bonus, she would be working with many of the same fourth-grade students and teachers she'd come to know as a volunteer.
She thought, "This is destined to be."
Her passion never left. After graduating from the College of Charleston, Dorsey accepted a full-time job with Wings for Kids. That was 13 years ago and she's just as passionate today about the work Wings for Kids does in schools in the Carolinas and Georgia as she was then.
Bringing social emotional learning to schools
Wings for Kids is dedicated to equipping students with the social emotional learning they need through games, activities and discussions. For example, a simple game of basketball results in conversations about teamwork.
"We provide education in a fun way with fresh ideas that's relatable to kids," Dorsey said.
Wings for Kids started in the Charleston area with a program at Memminger Elementary. It expanded to other Title 1 schools in the Charleston area, including Chicora and North Charleston elementary schools.
The program has since grown to serve children in Huger, St. Stephen, St. Matthews and Columbia in South Carolina plus Atlanta and Charlotte.
Dorsey lived in Atlanta for two years, overseeing the launch of the Wings for Kids program there. She moved back to Charleston where she's spent the last several years as program quality manager, ensuring Wings provides the best services to its students, staff and partners.
According to Wings for Kids, more than 12 million U.S. children live in poverty. Those children are more likely to lack basic needs like food, clothing and adequate housing. All of that translates into poor academic outcomes. These students often lag behind academically, are absent from school more often, and are more likely to drop out of high school.
While providing students in high-poverty areas with additional academic support is important, it's just one piece of the puzzle. Wings for Kids focuses its efforts on social emotional learning, helping children understand how to manage their emotions and interactions with others. These skills aren't just helpful in the classroom; they give students tools to succeed in school, in personal relationships and in the workplace.
"One of the things I love most about this job and working so closely with kids and parents is building that relationship," Dorsey said. "Kids and parents open up to you about life. We all have different challenges we go through. It's amazing to hear what people are dealing with and we give them the resources they need."
Navigating a pandemic
The vital role Wings for Kids plays in the lives of so many children made it all the more critical to find a way to navigate the COVID-19 pandemic. And that was not an easy task when schools closed and switched to virtual learning.
Dorsey had just returned to Charleston from conducting an assessment at the Wings for Kids program in Atlanta when the world shut down. Atlanta schools announced a temporary closure and shortly after, Charleston area schools did the same.
"We met quickly to see how we could still provide enrichment and resources to families," Dorsey said. "We adapted to virtual."
What everyone initially thought would be a temporary closure rolled into the end of the school year. The Wings for Kids staff did their best to keep kids engaged and having fun in a virtual after-school program.
One benefit, Dorsey said, was that parents had an opportunity to see their program and curriculum first-hand.
"Parents did the activities and joined in discussions," she said. "They could see what we were doing in the program."
The Wings for Kids staff took the summer of 2020 to brainstorm and prepare for whatever would happen that fall. They created multiple plans for in-person school, virtual school or a hybrid model.
Unable to have an in-person program, Wings for Kids put their virtual plan to work. And they decided to offer more support to teachers. Teachers relied on the Wings for Kids staff for "brain breaks," a chance for kids to get up and move while still absorbing lessons on social emotional skills.
Teachers incentivized students to show up for virtual school with the promise of a class party hosted by Wings for Kids. The virtual party included games and activities blended with the lesson of the week.
Wings for Kids offered homework assistance, after-school programs and even one-on-one help for students who might be falling behind due to the virtual settling.
With schools reamaining with the virtual model with the start of the 2020-2021 school year, Wings for Kids continued to get creative. They met with students in a park and in a local church. They even dropped off activity kits to students.
Moving forward with lessons learned
By March 2021, Wings for Kids was able to resume in-person programming. "Everybody was happy to be back in person," Dorsey said.
"Virtual learning showed us – and not just in Charleston or in South Carolina – that there were kids that got lost in the system," she said. "For the kids in the Wings program, we really tried to do a good job of reaching out to those families on a regular basis to provide the support and resources they needed."
One of the silver linings Dorsey said came out of the pandemic was an enhanced emphasis on social emotional learning. How to deal with emotions, how to work well with others, how to handle conflict—there's more of an appreciation of that since the pandemic happened, she said.
It illuminates what Dorsey and the team at Wings for Kids have known for years: you can only do so much with academics if kids are struggling with social and emotional issues.
And while Dorsey has accomplished so much in her 13 years at Wings for Kids, she knows there is more to do.
Armed with a master's degree in criminal justice from Charleston Southern University, she hopes to someday transition into the field of juvenile justice—a way to combine her degree with all she's learned about working with children.
Dorsey – honored in 2021 by the Charleston Regional Business Journal with a Forty Under 40 award – isn't hanging up her wings just yet. She's seen the power of Wings for Kids and the culture the team has created.
"Sometimes I'm at a loss for words for what it means to me," she said. "I've seen so many great things happen in this organization. To be around for that long of a time and see the growth and development in the kids. You see kids come back and want to volunteer. That says a lot about the families and culture we create. This is an organization that truly cares about its families and its staff."
BIO:
Mallory Dorsey
Program Quality Manager for Wings for Kids
Hometown: Florence, South Carolina
Education: Bachelor's degree in sociology from the College of Charleston; master's degree in criminal justice from Charleston Southern University
Hobbies: Watching the Dallas Cowboys, traveling, spending time with family and friends, reading and watching crime shows on TV.