Embrace the rounded edge trend
By Shelby Simon
Photos by Alex Thornton Photography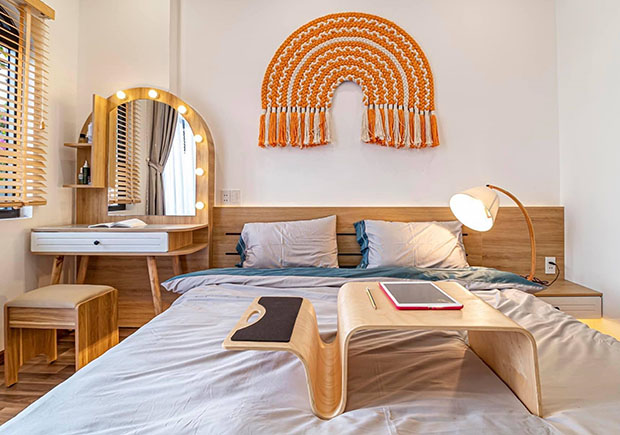 The Lowcountry offers an abundance of natural curves: crawling creeks, meandering marshes, twisting live oak branches and branches of driftwood on the beaches of Botany Bay and Capers Island.
Styling your home with statement pieces, such as furniture that showcases dramatic curves, is a trend for 2022 and a nod to the organic, natural beauty that surrounds us.
"Curved furniture adds a modern edge and a little retro/ Art Deco vibe to a space," said Jaime Albert, owner/founder and lead designer at Jaime Albert Designs, a full-service residential and boutique commercial interior design firm in Charleston. The style "is functional in creating a flow and visual interest."
On trend right now are curved couches, sofas with cylindrical arms, accent chairs with curved backs, coffee tables with curved bases, rounded headboards and even lighting fixtures, according to Albert.
"This organic modern movement in furniture is shaped by nature and reflects the natural world," she says. "This idea follows the rise of sustainability. Paint colors and textiles are trending towards earthy neutrals."
Mixing sharp lines with curves is visually complimentary in a room. According to Albert, "Curves add a sense of tranquility and a warm invitation . . . [they] add a sense of softness, comfort and warmth."
Albert shares some of her expert tips and favorite ways to style with curved furniture and accents:
Using curved accents alongside hard surfaces such as concrete, metal and wood makes an otherwise cold space inviting.

Update cabinet hardware with round pulls and knobs.

Pairing a curved sofa with an oversized piece of art enhances the dramatization in a room.

Surround a round dining table with curved back dining chairs.

Highlight a curved coffee table in front of a sofa with clean, straight lines.

Make a statement by swapping an outdated light fixture with globe or bubble-shaped lights.

Add curved accessories and centerpieces on dining tables like looped candlestick holders and Earthenware stretch vases for fresh flowers.

Replace a rectangular bathroom mirror with one that has a rounded rectangular curves for a modern update.

Avoid a common pitfall: curved furniture comes as a statement and takes center stage, so too much of it in one space can be too much!
Albert is no stranger to styling with contrasting and complementary lines. She recently finished a modern/minimalist living room where she and her team paired a leather sofa with a coffee table that has a soft, squared top and a rounded inset base.
On an outdoor dining patio project, she used S-shaped curved dining chairs for visual interest. In a powder bath remodel, she replaced an outdated light fixture with an airy, spherical glass globe pendant for a whimsical yet sophisticated look.
In her own home, Albert completed a sitting area with a roll-back sofa that has a curved bench seat placed against a wall with two oversized, abstract hanging art pieces.
The curved furniture trend transcends the original architecture of a home, as the myriad ways to style it can be done with pieces from any era.
"Charleston is a great place to be a designer," says Albert. "I love the versatility of design projects—everything from historical homes to beach houses to old brick ranches."
Shopping small for a statement piece is always a good idea. Some of Albert's local recommendations and favorite places to get inspiration, with furnishings ranging from vintage to brand new, include: The Hive for the Home, To The Trade on King, Celadon, House of Nomad, Lyndon + Leigh, Steven Shell Living, Zuma Imports (rugs) and Circa Lighting (light fixtures).