10 Great Dates
01 Jan 2012
You've planned a date...now what?
While you can have a perfectly nice time grabbing dinner at a local spot, or sipping cappuccinos together at the book store, is that really putting your very best out there? Take it from an old married lady (21 years and counting), a great date involves a blend of chatting, flirting and exploring. The classic movie-and-dinner combo won't ever leave you in the lurch, but it won't win you any points for originality either. This weekend, instead of hitting the multiplex, step it up a notch.
Not sure where to start? Here are 10 of our favorites. These dates are intended for hours of enjoyment, and yes, plenty of romance!
By COLLEEN TROY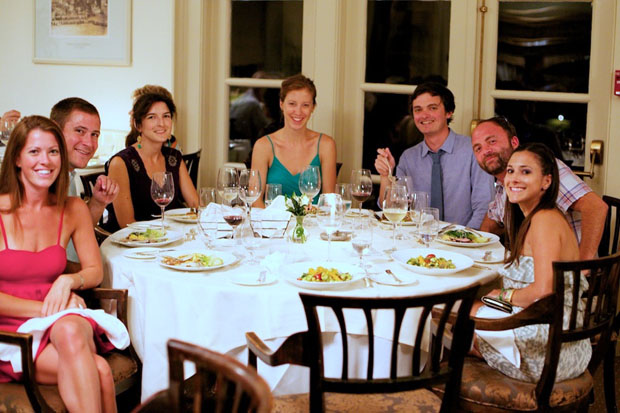 Shaken and Stirred
There's something sexy about an old-fashioned cocktail, served in a swanky place. Well trained bartenders know there's a bit of theatre involved in the concocting. And those of us who imbibe know that a toddy can take some of the edge off the evening. (We also know that one or more too-many can also ruin a night). Charleston has a great collection of craft cocktail bars, easily reached by pedicab (so much sexier than circling for parking spots all night).
So check out this tippler's foursome: Belmont Lounge at 511 King Street evokes a 1940s railroad car with its cozy interiors, nostalgic photos and long, welcoming bar. Ever-changing menus make every visit an adventure. Just down the way and up a staircase is the Cocktail Club, a sexy new place with plenty of cozy nooks and high style.
Head over to East Bay for a shot at the SpeakEasy, a closet-sized boite that overflows with hipsters. And don't miss the Gin Joint, the two year old "grand dame" of the local craft cocktails. Featuring a pre-Prohibition theme, the Joint serves classics like absinthe, and laborious egg foams make every dink a masterpiece. There's also a decent bar menu – don't forget to pair a night of drinking with food.
Plan a Historic Picnic
With 300-plus days of sunshine a year, it's a good bet you can plan for a little al fresco romance in and around the Holy City.
It all starts with a great hamper filled with delicious goodies. Stock up on fabulous meats and cheeses from downtown Ted's Butcherblock, West Ashley's Our Local Foods, or Carpentier's in Mount Pleasant. (Hint: buying your delicacies from locally-owned purveyors makes you not only socially conscious, but just might make your date perceive you as even cuter!)
Beverages require a bit of special care. Alcohol is often not allowed to be sipped in public parks and on beaches. That's where those ubiquitous Koozies and plastic cups come in handy. I'm just sayin'.
So now where? Some of our favorite picnic spots include the gazebo at White Point Gardens, the grounds at the Angel Oak, on the banks of Mount Pleasant's Old Pitt Street bridge, and along the promenade of North Charleston's Waterfront Park.
Turn up the Heat
You know those corporate retreats that have working stiffs cooking alongside the CEO to get everybody "pulling together?" Well if it works for the Fortune 500, why can't it work for your Fortunate Twosome? Put some sizzle in your next date with a class at Charleston Cooks on East Bay. Offering a mix of hands-on and observation classes, they focus on technique and fun. The Culinary Institute of Charleston is another great place for honing your knife – and conversational – skills. Check out their continuing education classes, many of which you can complete in a couple of hours.
Not up for a class? No worries. Book two spots on a culinary tour and impress your date with your great taste. Choose from a weekly Chef's Kitchen Tour that puts you behind the scenes of top restaurants, or the Monday through Saturday Flavors Tour, or Charleston Culinary Tours, which offers tastings from various vendors and chefs mixed in with some history and culture.
Get Your Craft On
Pack a bottle of wine or sparkling cider and head to one of the area's paint-your-own studios for a little left brain activity. There's a wide assortment of places that "sublet" easels and paints for an evening, while professional artists teach you how to paint step-by-step in a fun, social environment. Sip on beer or wine as you create something unique (what more can you ask for!). Check out Bottles n Brushes in Summerville, Mount Pleasant's Fear no Easel, and Wine & Design studios.
Get Fresh
The birds sing, the bees buzz and all is right with the world. Midday adventures can make for great dates, allowing you to move out from behind a restaurant table and into the great, wide world.
Animal lovers will enjoy a morning or afternoon in Awendaw's Center for Birds of Prey. Tour on your own or with a guide, and stay for the flight demonstrations. Head over afterward to the venerable Seewee Restaurant for some classic meat-n-three action.
Way on the other side of the county rests CawCaw, a bird-watchers dream. Paths wind through gorgeous marshlands and just beg you to steal a kiss. Also great on the West side of town: Irvin House winery on Wadmalaw or horseback riding on Seabrook. (The private island allows the public to ride, with advance reservations).
Feed the Foodie
Charleston is a food-lover's dream. But all that choice can be a nightmare for the date planner. So here's a way to tickle your intended's palate – plan a Saturday morning date downtown. Meet for breakfast at the Dixie Supply or Virginia's on King for a classic Southern breakfast. Then meander over to Marion Square to sip, sample, chit chat and savor all that is local and praise-worthy.
Enjoy local music, support area artists and enjoy some serious people watching. Play your cards right, and you might manage to pick up all the ingredients necessary for your next date – dinner at your place.
'Sup?
Ready to take your relationship to the next level, i.e., show up in a bathing suit? Then pick a warm day and head to one of the many local outfitters that rent Stand Up Paddle boards (SUPs). More steady than a kayak and fairly easy to navigate, SUPs get you out on the water and away from it all for a Zen-like adventure. Outfitters provide the boards, paddles, life jackets and instruction you need for trips up creeks and along the beach.
You'll work up an appetite and thirst (don't forget water bottles and sunscreen), so plan enough time for supper post SUP-ping. Shem Creek restaurants are walkable from Coastal Expeditions, and the many places on Folly are also easily accessed from the water.
What Gives
You do, when you and your date sign up for a volunteer shift or support a local charitable cause. Charleston is awash in non-profits that rely on volunteers (think soup kitchens, animal shelters, beach cleanups), and helping other people can really teach you a lot about each other. Another great night out can be a charitable benefit. Sure, tickets can get pricey, but you're benefiting a good cause. Many are rather formal, so your date will get to see that you really do clean up nicely!
Play Tourist
Come on. You've always meant to take that boat to Fort Sumter, board one of those carriage rides or tour those museums. So what's holding you back?
Charleston attracts millions of tourists every year, and many of them keep coming back. So why not experience the Holy City as they do, by grabbing a tourist map and hitting the streets. Stop in a local Visitor Center for advice, browse the gorgeously remodeled City Market, and prowl Museum Mile for glimpses of your history.
Finally, a Great First Date
Okay, so the previous nine dates were all fabulous. But meeting for the first time may require more restraint than you'll find in your bathing suit or on an eating marathon. And so, in no random order, here's a look at the places we recommend for the first real date since you two met on match.com.
The bar at Husk; lunch at Butcher and Bee; a movie at the Terrace followed by a bite at Zia Taqueria; tickets to a Guerilla Cuisine event; sunset drinks atop the round Holiday Inn; a bike ride across the Ravenel Bridge; brunch on King Street during Second Sunday.