A Happy Hen House
01 Jan 2012
With its laid back kid-friendly atmosphere, the Fat Hen brings a twist to upscale cuisine with their down-home style
By STEPHANIE HUNT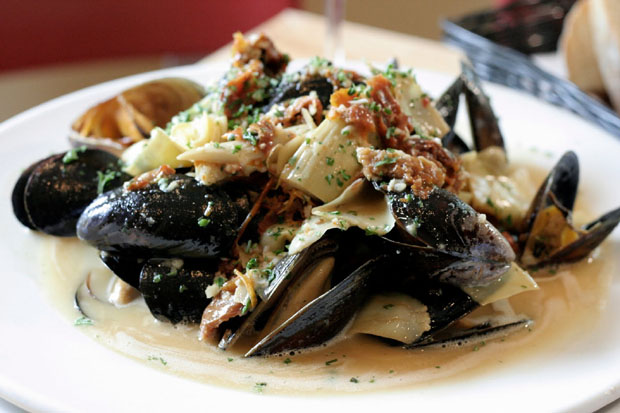 Don't sacrifice the lamb. Fred Neuville learned this the hard way. The chef/owner of the cheery little coop on Johns Island, Fat Hen, discovered just how sacred his lamb shank was while playing golf, enjoying a break from the bustle of the kitchen and the heated demands of the restaurant biz. He was teeing off, wearing a polo shirt with the familiar red circle Fat Hen logo on it, when a teed-off patron confronted him. "You took the lamb shank off the menu," she said, clearly distraught.
It was summer – steamy, boiling, oppressive Charleston summer – and surely no one wanted to sit down to a hefty plate of densely-flavored, rich and meaty, fall-off-the-big-bone braised lamb shank. At least that's what Neuville had reasoned when he rotated it off the menu to make way for more seasonal lighter fare. But boy was he wrong. A point underscored a few holes later, when two other golfers gave him the same "where's our lamb" grief.
"So the lamb shank now stays on," Neuville says, "but I do change the set-up according to what's fresh and in season." On a recent (winter) visit, the hearty, perfectly tender shank was dressed in brandied cherries and resting on a decadent pillow of roasted apple, fennel and truffle grits.
That's the kind of place that Fat Hen is – a happy roost where loyal customers find their must-haves and first-timers discover the delightful results when traditional French fare gets a creative Lowcountry twist, with ingredients biased toward local and fresh and an atmosphere heavy on "friendly." Tucked away in a cozy spot on Maybank Highway on rural Johns Island, this happy hen house is like the restaurant equivalent of the backyard chicken craze currently popular in urban neighborhoods—it's homey, authentic, and renders delicious, fresh eats. From the quaint, farm-house feel of the dining room to the menu's diverse offerings, ranging from a down-home burger and pomme frites to a sophisticated seared duck or comfy coq au vin, Fat Hen has a wide and welcoming appeal, drawing foodies from downtown, families from Folly and everyone in between.
"We knew as soon as we saw this spot that it was the place for us," says Neuville, a Culinary Institute of America graduate whose impressive track record includes opening Rue de Jean and Coast restaurants and Good Food Catering. Since moving to Charleston 18 years ago, he and his wife Joan had been keeping an eye out for the right property to launch their own venture, and this old house with its bare cement floors and bead-board paneling was perfect for the minimalist, casual concept they envisioned – where flavor and technique trumps table cloths and candlesticks. "We knew if we offered good food and good drinks, we couldn't go wrong," Neuville says, and now five years into it, Fat Hen's large flock of fans seems to prove him right.
Being in the heart of Johns Island means Fat Hen is neighbors with some of the region's best farmers and local purveyors; a blackboard in the restaurant gives them a shout-out: Legare Farms, Ambrose Farms, Thackeray Farms, Keegan-Filion, Geechee Boy, Crosby Seafood, to name a few. "I have a great relationship with the local farmers. They call me up and tell me what they've got available, what's at its peek," says Neuville. "When you buy the freshest possible product, you don't have to do a lot to it." Two years ago Neuville built his own on-site cold smokehouse, which he uses to flavor items from house-made charcuterie and sausages (one of Neuville's specialties) to beets for an imaginative smoked beet and arugula salad.
With its laid-back island atmosphere, plucky poultry-inspired décor, Mason jar glassware and reasonable prices, Fat Hen manages to balance upscale cuisine with down-home style. "I can't think of any other place where you can find meat loaf and coq au vin on the same menu," Neuville says. Being kid-friendly was integral to his vision from the get-go. "I have four and a half kids of my own," says the busy foster dad, who is adamant that his kitchen staff honors any diner's dietary requests or allergies.
It's clear that Neuville loves what he does and what the Fat Hen represents among Charleston's plethora of culinary pick'ins. And he's glad that his customers seem to as well, and that they care enough to keep him honest. But the next time you run into him on the golf course, let the guy enjoy playing a few holes. Don't worry folks, the lamb ain't going anywhere.
Fat Hen 3140 Maybank Highway, Johns Island (843) 559-9090 Dinner Mon – Sat, 5:30-10:00pm Sunday, 5:30-9:00pm www.thefathen.com