Amazing Graze
01 Jan 2012
Three long-time friends create an upscale eatery that is surprisingly budget-friendly
By DENISE K. JAMES » Photographs By LEA DALES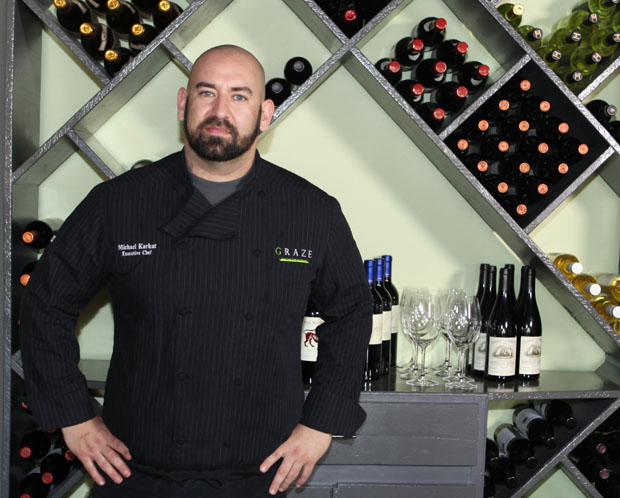 We've all been stumped, particularly around Charleston, about what kind of food to get for lunch or dinner. There are so many interesting options that it's tough to commit to one restaurant. Until now, that is.
"You can come here and have anything you feel like," says Mike Karkut, owner and chef of Graze in Mount Pleasant. "Even if you have no idea what you're in the mood for. Between Derek Lathan and myself, we have a lot of different styles of cuisine on the menu. I'm rustic southern, he's more eclectic."
The three owners—Michael Karkut, Derek Lathan, and Bradford Bobbitt—have known each other for a while.
"We all worked together at another restaurant in the area," explains Bobbitt. "We thought about buying into that particular restaurant, but it didn't work out, so we started looking around for something else. This space, which used to be Coco's Café was perfect for us."
The transition into Graze was a labor of love, and just about every change to the inside of the restaurant was done by hand.
"When we bought the place, it was dark with wood paneling and carpeted," says Bobbitt with a laugh. "We renovated the whole thing and gave the building a facelift. We painted, upholstered, did everything ourselves."
The result is a modern but cozy establishment, perfect for an upscale dinner out, or a leisurely lunch.
As for the name Graze, think less cow pasture and more elegant spread.
"When we started thinking about a name for the restaurant, Karkut came up with Graze," says Bobbitt. "At first we were afraid that it would send the wrong message, but actually it means grazing a wide variety of culinary options, which is what our menu offers. Of course, we've also put a bit of green in the logo to show that we use local, fresh ingredients. A lot of restaurants do the same thing in Charleston, but we try to keep price points reasonable while offering quality food."
And as for the drink list, you won't go broke ordering a nice bottle of wine with a meal—which makes Graze a great destination for impressing your date!
"We keep the high-end wines at decent prices. For example, we offer The Prisoner for just $45," says Bobbitt. "Our mission here is not to gouge people, but to make them feel comfortable with what they spend, and pleased with the experience."
The menu at Graze changes with the season, and always has an interesting assortment of entrees, appetizers, soups, salads, and sandwiches during lunch.
"We strive to make dishes that are not on everyone else's menu in the Lowcountry," says Karkut. "We change the menu according to what vegetables and meats are in abundance that time of year. Because we constantly renovate our menu, it keeps things really fresh. We have no limitations."
For the winter menu, try the Porchetta-style pork tenderloin, which Karkut recommends as a "classic, savory dish for the cooler months." For something lighter during the lunch hour, the Rock Shrimp dish is a popular choice.
I personally suggest the Wild Mushroom Pappardelle, which is what I had. With goat cheese, spinach, tomatoes, and pine nuts, it was one of the most delicious lunches I can remember.
"We're also currently planning a full dessert menu with after-dinner drinks," says Karkut. "That will be something new for the restaurant."
Future plans for Graze include eventually opening a new location elsewhere in the Charleston area.
"We're always thinking about a second location, either another Graze or a totally new concept," says Karkut. We've gotten past the first year, which is the hardest in the restaurant business. Now, we're ready to see what's next."
Graze
863 Houston Northcutt Blvd., Mt. Pleasant, (843) 606-2493, grazecharleston.com