Applause for Claws
30 Mar 2013
Great customer service and good seafood help Charleston Crab House Celebrate 22 Years
By BRIAN SHERMAN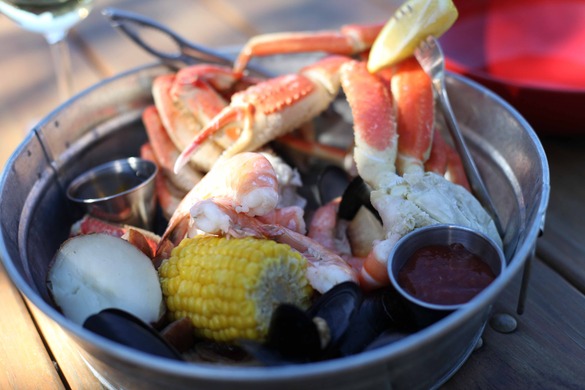 John Keener likes to keep things local. He serves up fresh shrimp and other seafood caught along the East Coast whenever possible, and he buys his produce from nearby Ambrose Farms on Wadmalaw Island. And, after a taste of what it was like to expand his business to places throughout the Southeast, he decided that operating two local Charleston Crab House restaurants is better for his customers and for his family.
Keener celebrated the 22nd anniversary of his original Charleston Crab House, which faces the Intracoastal Waterway on James Island, on February 21. His restaurant on Market Street in downtown Charleston has been thriving since 2002. He owned eight restaurants at one time, but chose to focus on his two locations in the Charleston area.
"I came back to concentrate on the local market," he comments, adding that the decision to downsize gave him more time to spend with his wife and three children.
Keener realizes that ambience is an important aspect of the dining business. At one of his restaurants, diners can enjoy an excellent meal while gazing out onto the Intracoastal Waterway. The other is located in the heart of one of the nation's oldest and most beautiful cities. But to Keener, the real keys to his success are impeccable customer service and, of course, good food. His signature dish is the famed Crab House Crab Pot, a delectable combination of shrimp, snow crab legs, Dungeness crab legs, mussels, sausage, potatoes and corn on the cob, all steamed to perfection and topped with garlic butter.
The extensive menu, which Keener changes twice a year "just to keep things fresh," features a wide range of Southern seafood specialties, from Lowcountry crab cakes to Charleston shrimp and grits to the popular Carolina platter, which includes a crab cake, fried shrimp, snow crab legs and two sides – diners can choose from Edisto grits, cole slaw, collard greens, smashed potatoes, waffle fries, red rice, corn on the cob or the vegetable of the day.
"Our customers can get many different seafood items cooked many different ways," Keener points out.
The Charleston Crab House menu offers several options not found at other seafood restaurants, such as Mediterranean seafood linguine, a scrumptious combination of sea scallops, shrimp and mussels in white wine, garlic butter, feta cheese, tomatoes and black olives; seafood Wappoo – sea scallops, shrimp and fish baked in Alfredo and topped with melted cheddar jack cheese, over linguine; and skinny turf and surf – a grilled chicken breast, along with snow crab legs and two sides.
Salads, sandwiches and desserts – key lime pie, Reese's peanut butter pie and an option that changes daily – also are on the menu, along with raw and baked oysters and, of course, "crab, crabs and more crabs." Keener, who uses only Alaskan snow crabs, ventures to Boston once a year to buy them.
And, for diners who just can't do without red meat, Charleston Crab House offers a certified angus beef grilled ribeye.
Keener knows the restaurant business well. He learned the ropes under legendary Mount Pleasant restaurateur Ronnie Boals, serving as general manager of RB's and other restaurants Boals owned on Shem Creek. Keener later ran a high-end steakhouse in downtown Charleston. When Hurricane Hugo destroyed the building in 1989, he decided it was time for his own entrepreneurial juices to flow. He had his eye on a building that housed a struggling restaurant on the Intracoastal Waterway.
"I told the landlord that if the building became available, I wanted the first shot at it," he remembers.
The window of opportunity flew open in November 1990. Borrowing money from various people, he completely remodeled the building, adding new kitchen equipment, tables and chairs. Unfortunately, by the time he was ready to open for business in February 1991, the money was gone. A local bank loaned him $25,000 to pay the staff and buy food, and the restaurant's immediate success allowed him to repay his debts within six months.
Keener attributed much of that success to his employees. Many of them have been with the company for a decade or more, and three have worked at the Charleston Crab House since it opened its doors in 1991.
"We've been lucky over the years. We've had a great staff," Keener comments. "One reason they stay here is that I'm involved in the day-to-day operations of the restaurants. It's not a big corporation, where district managers change all the time. I'm at both places six or seven days a week."
He added that a large number of his 120 employees are in the 18-to-30 range.
"That keeps me young," says Keener, who is 55. "It keeps me thinking about the next generation, about what food they like and the décor of the restaurant."
Combining excellent service with great-tasting food has worked for Keener on the Intracoastal Waterway, and the same combination also has done well in downtown Charleston, where attracting visitors to the Holy City is the key to success in the highly competitive restaurant business. In the nine years before he opened at the corner of Market Street and State Street, four restaurants opened and closed at that location. After 11 years, his is still going strong.
What does Keener know that his predecessors didn't?
"Great customer service and great food," was his immediate answer to that question. "People who come to our restaurants come back, and they recommend us to others. Word of mouth is important. We rely on locals to recommend us to each other and to visitors."
Keener says he probably will continue to do the best job he can operating his two restaurants – until he is bitten again by the entrepreneurial bug.
"I might do something else," he winked.
Charleston Crab House
145 Wappoo Creek Dr., James Island
843-795-1963
41 S. Market St., Charleston
843-853-2900
Open daily for lunch and dinner.
www.charlestoncrabhouse.com