At the Altar of the Green Goddess
07 Mar 2019
Bring on spring with new takes on perennial favorites
Recipes and Photos by KIM BYER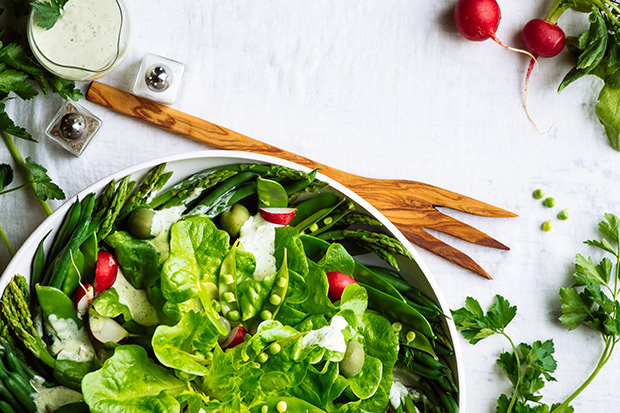 These are the days of all things new: bridal showers and honeymoons, delicate pea shoots and mounds of fresh mint, perfect pedicures and pastel dresses, puppies and bunnies and fuzzy yellow chicks. Gorgeous green vegetables are in peak season, too. Simply pick, rinse and enjoy.
There are invitations (read: excuses to indulge) for baby showers, weekend brunches and the grande dame of spring – Easter Sunday. If you're hosting, consider one of these fresh takes on classic spring dishes. And don't let the pale hue of our green goddess dressing play April Fool's – it's full of fragrance and when drizzled over this salad, it's a Sunday dinner showstopper. Our spin on potato salad may even upstage your entrée with its pretty herb confetti.
Want a fast and fresh tease for your taste buds? Go for the grape salsa with chili-lime chicken or the other-worldly(!) broiled goat cheese with lemon curd and blackberries. Feeling adventurous? The vegetable carpaccio may be the most daring salad of the season. Imagine a standing ovation, however, when you present your coconut tres leches trifle. It's a delicious dénouement and nearly impossible to resist when it circles back around for second helpings.
Green Goddess Salad
Serves 4-6 as a side salad; Yields 1 cup dressing
1 head fresh lettuce (butter or green leaf), rinsed and torn
Handful each haricots vert, snow peas, sugar snap peas, pencil-thin asparagus spears, radishes, and green olives
Coarse kosher salt and freshly ground pepper
Green Goddess Dressing
2 anchovies
1 garlic clove, minced
½ cup mayonnaise (Duke's or homemade)
½ cup sour cream
Juice of 1 lemon (approximately 2 tablespoons)
Handful of Italian parsley leaves, chopped
1 heaping tablespoon of tarragon leaves, chopped
A few chive sprigs or 1 spring onion, chopped
Kosher salt and black pepper
Fill a medium-sized pot with salted water and bring to a boil. Quickly cook haricots verts, snow peas, sugar snap peas, and asparagus for about 3 minutes. Drain and place in a medium-sized bowl. Cover vegetables with ice to cease cooking.

Place garlic, mayonnaise, sour cream, lemon juice, herbs and onion into a blender. Blend until herbs are fully incorporated as small bits.

Quarter radishes. Then arrange lettuce, vegetables, and olives on a large platter or in a low bowl. Drizzle on half of the dressing (or toss, if desired) and serve with remaining dressing, salt and pepper.
Fresh Herbed Potato and Egg Salad with Mustard Vinaigrette
Makes approximately 4 cups
3 pounds petite red potatoes, scrubbed and sliced into thick (1/4") rounds
¼ cup white wine vinegar such as Pinot Grigio
3 tablespoons whole grain mustard
1 tablespoon capers
1 spring onion, chopped
2 teaspoons honey
2 anchovies, minced
½ teaspoon kosher or sea salt
½ cup extra virgin olive oil
6 eggs, boiled, peeled and sliced into thick (1/4") rounds
1 cup chopped mixed herbs, such as parsley, dill, basil, tarragon and/or thyme
Freshly ground pepper
Bring a large pot of salted water to a boil. Add sliced potatoes and reduce heat to a simmer. Cook until soft (approximately 15 minutes). Drain and rinse with cool water. Set aside.

In a large bowl, mix vinegar, mustard, capers, honey, anchovies, and salt. Slowly whisk in oil, then add herbs.

Add potatoes to the bowl and gently toss to dress. Fold in egg slices. Chill for 30 minutes.

Before serving, season with freshly ground pepper and more salt, if needed. Add a few extra herb clippings.
Tip: Some of the potatoes will soften and crumble when cooked. Separate any intact slices of potatoes and gently fold these in after you fold in the egg slices.
Grilled Chili-Lime Chicken Skewers with Green Grape Salsa
Serves 2-3, Yields 2 cups salsa
1 to 1.5 pounds of boneless, skinless chicken breasts sliced crosswise into 2"-3" lengths
2 tablespoons olive oil
1 teaspoon ground chili powder
1 teaspoon cumin
Juice of 1 lime
½ teaspoon kosher or sea salt
Green Grape Salsa
2 cups green grapes, chopped
2 handfuls of cilantro stems and leaves, chopped
1 avocado, chopped
Juice of 1 lime
1 green onion, chopped
½ teaspoon kosher or sea salt
½ teaspoon hot sauce (or to taste)
Preheat grill or stove-top grilling surface to medium-high heat.

In a shallow dish, roll chicken slices into mixture of oil, lime juice, chili pepper, cumin, and salt. Thread chicken slices onto skewers and grill for 3 minutes all sides or until chicken is thoroughly cooked.

Prepare salsa by gently folding all ingredients together in a medium-sized bowl.

Serve salsa alongside chips and chicken skewers.
Tip: If using wooden skewers, pre-soak in water for 15 minutes prior to using.
Broiled Goat Cheese with Lemon Curd and Blackberries
Serves 4-6 as an appetizer
1 4-oz. round of fresh goat cheese
Handful of blackberries
2 heaping tablespoons lemon curd
Fresh fruit and flatbread or baguette for serving.
Preheat oven to broil on high. Coat the bottom of a small oven-proof pan with tablespoon of lemon curd. Place cheese surrounded by blackberries and topped with remaining lemon curd into the pan. Broil until cheese begins to melt and brown. Remove to the stovetop and cook on medium heat for a few more minutes or until cheese is fully melted.

Serve with extra fruit and warm bread for spooning or dipping.
Tip: There's nothing to compare with homemade lemon curd, but if you're looking for a tasty ready-made version, check out the English Tea Store website for affordable and authentic heaven in a spoon.
Rainbow Root Carpaccio
Serves 4 as a side salad
Several root vegetables (multiple varieties and colors), such as carrots, beets, daikon, radishes, etc.
Fruit: rinsed spring berries, grapes, kiwis or nectarines
4 ounces goat cheese, crumbled
¼ cup pistachios
Citrus Marinade
Juice of 2 lemons or Meyer lemons (approximately 6 Tbsp)
Juice of 2 oranges (approximately 9 Tbsp)
3 Tbsp rice wine vinegar or Champagne vinegar
1 Tbsp + 1 teaspoon honey
1 tsp Dijon mustard
½ cup light olive oil or grapeseed oil
Enough kosher salt to achieve a balanced taste (at least ½ teaspoon)
Using a mandolin and/or very sharp knife, carefully slice vegetables wafer-thin.

Prepare marinade by whisking all dressing ingredients (except for oil) in a medium-sized bowl. Next, emulsify the marinade by slowly incorporating the oil while continually whisking the mixture. Using one bowl per vegetable (fruit does not need to marinate), divide marinade equally. Soak sliced vegetables for 1-2 hours.

Using tongs, arrange strained carpaccio (along with fruit) by color onto a platter or board. Sprinkle with extra berries, cheese, pistachios, and remaining vinaigrette, if desired.
Tip: When slicing raw vegetables with a mandolin, always use a slicing guide, fork or other protection to ensure fingers and hands do not come in contact with the blade.
Coconut Tres Leches Trifle
1 angel food cake, torn into spoon-sized pieces (bakery or box-mix)
1 14-oz. can sweetened condensed milk
1 5-oz. can evaporated milk
2 15-oz. cans coconut milk (divided use)
1 pint heavy whipping cream or 16 oz. whipped topping (divided use)
3 Tbsp confectioners' sugar
½ tsp vanilla
5 oz. vanilla instant pudding mix
8 oz. sweetened shredded coconut
1 lb. fresh strawberries, sliced lengthwise
1 coconut hulled, shaved and toasted (optional topping)
In a large glass trifle bowl, layer up to one-half of the cake pieces.

In a medium-sized bowl, mix condensed milk, evaporated milk and ½ cup of coconut milk. Pour 1 cup over cake pieces.

In a chilled mixing bowl, whip the heavy cream with sugar and vanilla until soft peaks form (about 3 minutes). Skip step if using whipped topping.

In a large bowl, whisk remaining coconut milk and instant pudding mix together. Let the mixture set for five minutes. Gently incorporate one half of the whipped cream. Ladle a layer of the mixture over the cake.

Layer one-half of the shredded coconut and one-half of the strawberries. Repeat layers and top with toasted coconut shavings.
Tip: If making ahead, add final whipped cream topping and coconut shavings before serving.