Bon Appétit!
30 Mar 2013
Personal service is the signature dish at this local cafe.
By PAMELA GRAHAM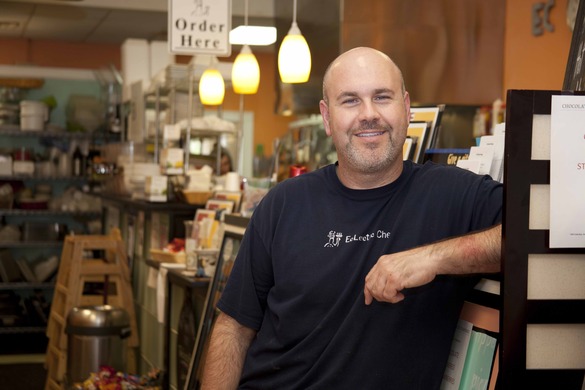 It's no surprise the Eclectic Chef continues to win the hearts of its customers with not only mouth watering signature dishes such as its most popular salad D'Anjou Pears and Warm Goat Cheese on Mixed Greens, but also its customer service. You see it's not unusual to call chef Ben McCollum and have him whip up your favorite sandwich or salad without even ordering it, because yes, he already knows what you want. The personalized attention is truly the signature dish of this quaint and yes, eclectic cafe in downtown Summerville.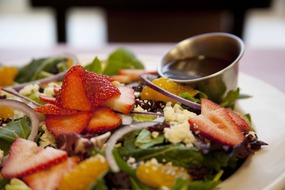 It appears everyone agrees, as year after year the Eclectic Chef sweeps the Reader's Choice Awards as voted in the Summerville Journal Scene, winning first place again in 2012 in categories ranging from Favorite Chef, Business Lunch, Catering Service, and Dessert just to name a few.
Cooking is a passion that began at an early age for McCollum. "My grandmother always made a phenomenal spaghetti sauce and my mother was a great cook when it came to southern food. I remember being in the kitchen with my mom and helping her cook her shrimp and grits, that is food for my soul," he said.
Growing up in Orangeburg, McCollum has fond memories of his youth, spending weekends at Folly Beach with his parents and two sisters. He laughingly also remembers the journey in attaining his prestigious rank of Eagle Scout. "On camping trips the motto became, you cook and we'll clean, which worked out pretty well," he said.
McCollum's passion for cooking though didn't truly emerge for several years. He graduated from Winthrop College with a Bachelor of Science in Business Administration and then went back to Winthrop for his MBA. He spent 8 years in the banking industry in Charlotte, and for fun decided to take some cooking classes at Johnson and Wales University. It didn't take long for him to realize his passion was calling.
With an Associate of Science degree in Culinary Arts, McCollum returned to Charleston as a personal chef. "I did catering, lots of private parties, but I found myself in the kitchen by myself a lot, and honestly got lonely, so I decided to take the next step," he said.
The Eclectic Chef opened its doors in May of 2004 as a lunch and catering business. The name not only reflects its menu, but also McCollum. "When I was trying to come up with a name for my business, a friend suggested I select a name that describes me, as a person. That way it will truly be a part of you rather than just a place where you work," he said. McCollum says his taste in not only food, but everything from music, decorating and friends is "all over the board", so the Eclectic Chef was born.
McCollum prides himself on introducing his customers to new tastes and food. "We use a lot of goat cheese and we have seasonal menus, fresh and quality are important to us," he said.
One item you won't find on the menu is French fries. "People ask for them and I recommend they taste our pasta salad, and if they don't like it, I will give them any other item on the menu. We don't even have a fryer in the restaurant," he said.
McCollum admits his menu has evolved over the years. Take for example his decadent desserts. His chocolate cake with crumbled brownies drenched in chocolate and caramel syrup was named the "big ass chocolate cake". That was until a 5-year old bragged to his mother he could spell "a-s-s" and pronounce it with ease. Fortunately the boy's mother was not offended, but McCollum decided perhaps it might be a good idea to rename his popular cake. Now you can find the same dessert on the menu as the "ultimate chocolate cake".
McCollum's goal has always been pleasing his customers as he understands there are so many choices. "People are becoming more adventurous and are becoming excited about food thanks to TV. They know more about food than they use to," he said. McCollum admits he doesn't have time to watch much TV, but he does weigh in on his favorite TV chef, Tom Collichio from Top Chef. "He is an amazing chef, one of the first culinary books I read was his book, "Think Like a Chef". "It's my philosophy as well, you don't have to follow the recipe religiously. It's your food, cook it the way you want it," he said.
So McCollum will continue to whip up his decadent desserts, wildly popular pear salads and much more with an eye on expanding his good fortune to additional locations. And if you happen to catch him in the restaurant with what he calls his wonderful staff, and you want to make his day, try just saying thank you. "If I am having a bad day and I start having doubts, and then I hear a customer say thank you, that's the best I've ever had, for me that's affirmation that I'm doing what I'm supposed to be doing.... I'm doing what God wants me to do," he said! â– 
The Eclectic Chef
125 Central Ave., Summerville
843-821-7733
Mon-Fri 9-5pm, Sat 9-4pm
eclecticchef.net