Events in Jan-Feb 2023
05 Jan 2023
Looking to fill your social calendar? Weve got the rundown on what to do this winter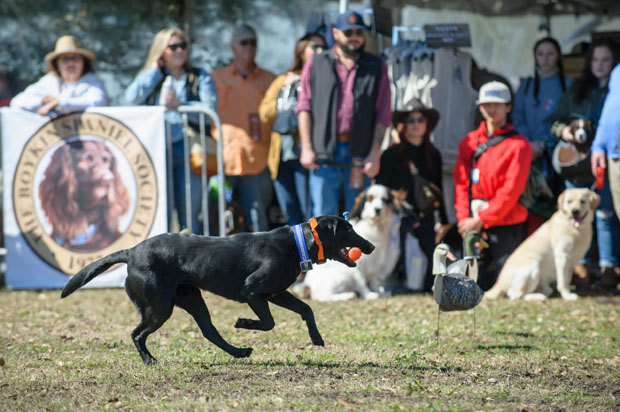 Southeastern Wildlife Exposition
Feb 17-19
The Southeastern Wildlife Exposition is a celebration of the great outdoors through fine art, live entertainment and special events—including the crowd favorite dock dogs competition—at various indoor and outdoor locations throughout downtown Charleston. Tickets start at $40 per day with multi-day discounted tickets available. www.sewe.com.
January
Stingrays Hockey
Various dates in January and February
Cheer on Charleston's minor league hockey team with a number of games in January and February at the North Charleston Coliseum. There are a number of themed nights including military appreciation night, pride night and mascot mania. See a full schedule and purchase tickets at www.stingrayshockey.com. 5001 Coliseum Drive, North Charleston.
Ice Skating on the Point
Jan 1 – Feb 2
Enjoy ice skating on synthetic Ice at the Charleston Harbor Resort & Marina. There will be s'mores, fire pits, hot cocoa, fire pit and igloo experiences for rent, jump castles and more. Open Thursday through Sunday from 3 p.m. – 8 p.m. The costs is $12 for a 50- minute skate and $25 an hour for igloos and rinkside Firepit Experiences. Reservations required. Times can be purchased at www.citypapertickets.com. 20 Patriots Point Rd., Mt. Pleasant.
Save the Light Oyster Roast
Jan 8
Unbeatable views of the marsh on James Island and unlimited steamed oysters await attendees at this annual fundraiser at Bowen's Island restaurant to help preserve Folly Beach's Morris Island lighthouse. Tickets are $50 and include oysters, beer, wine, hot dogs, chili, desserts and live music. 2 -5 p.m. 1870 Bowens Island Road. www.savethelight.org.
Charleston Museum's 250th Anniversary
Jan 12-14
The Charleston Museum will commemorate its 250th milestone anniversary with a series of special celebrations. On January 12, enjoy an evening with keynote speakers and a reception in the main lobby with a special anniversary craft beer. On Jan. 13, the museum will hold a "Nighttime at the Museum" event for guests 21 and older to explore the galleries after hours. The museum's official birthday party will be held on Jan. 14 with historical fun for the whole family with special displays and surprises, crafts, activities and cupcakes. 360 Meeting Street. www.charlestonmuseum.org.
Charleston Restaurant Week
Jan 12-22
Enjoy the world-renowned cuisine of the Lowcountry as participating restaurants offer prix fixe lunch and dinner menus during this bi-annual event. For a full list of participating restaurants, visit charlestonrestaurantassociation.com.
Offroad Duathon
Jan. 14
The trails of Laurel Hill County Park mark the course for our Off-Road Duathlon held by the Charleston County Parks. This three-part, beginner-friendly course begins with a 2-mile run, then a 7-mile bike, and finishes with another 2-mile run. $55 per person. Registration ends Jan. 9. 1400 Hwy. 41, Mt Pleasant. www.ccprc.com.
Taste of Folly
Jan 14
The annual Taste of Folly Festival is a weekend full of delicious family-friendly events. Center Street will be closed to traffic for patrons to enjoy Folly Beach restaurants' beachside cuisine. It will feature live music across three stages, 60 arts, crafts & food vendors, kids areas, and other entertainment. A "server Olympics" event, hot dog eating contest and cocktail competition are part of the lineup. Purchase tickets at www.visitfolly.com.
MLK Day Parade
Jan 16
The largest MLK celebration in South Carolina and one of Charleston's longest running events will include a parade held Monday morning in downtown Charleston at 10:30 a.m. For a list of other MLK celebration events and parade route, visit www.ywcagc.org/mlk-celebration.html.
PechaKucha
Jan 18
The annual arts-focused event will be held in slideshow format this year showing the work of an array of different artistic, creative, and entrepreneurial disciplines from Charleston's creative community. Tickets are $12 in advance and $14 on the day of the show. 7:30 p.m. Charleston Music Hall, 37 John St. www.charlestonmusichall.com.
Jim Gaffigan
Jan 26
Jim Gaffigan is a six-time Grammy-nominated comedian, actor, writer, producer and three-time Emmy-winning top touring performer known around the world for his unique brand of humor, which largely revolves around his observations on life. He's making a stop at the North Charleston coliseum for his Dark Pale tour. 7 p.m. Ticket prices vary. 5001 Coliseum Dr., North Charleston.
Lowcountry Oyster Festival
Jan 29
Hailed as the world's largest oyster festival has been named one of the "top 20 events in the southeast" by Southeast Tourism Society. The Lowcountry Oyster Festival presented by Toadfish is the world's largest oyster festival with 45,000 pounds of oysters. Held at Boone Hall Plantation in Mt. Pleasant, highlights include live music on the main stage, wine, a selection of domestic and imported beers, a Children's Area and a "Food Court" showcasing a variety of local favorite restaurants to satisfy everyone's taste. General admission is $23. 1235 Long Point Road, Mt. Pleasant. www.lowcountryhospitalityassociation.com/oyster-fest
Secrets of the whales with underwater photographer Brian Skerry
Jan. 31
Dive deep into the groundbreaking science of whale families—and their startlingly human parallels—through the awe-inspiring work of celebrated National Geographic underwater photographer Brian Skerry. Discover the extraordinary communication skills and intricate social structures among four different species of whales – from the international cuisines of orcas to families of beluga whales playing at their "summer resort" – and learn what these majestic creatures can teach us about ourselves and our planet. In Local Partnership with South Carolina Aquarium. Tickets start at $19 plus fees. Charleston Gaillard Center, 95 Calhoun St. www.gaillardcenter.org
February
The Colour of Music Festival
Feb 1-4
This touring festival brings a diverse classical repertoire of baroque, classical and 20th-century music at the highest of musical standards. www.colourofmusic.org
Save the Light Half Marathon
Feb 4
A half-marathon and 5K to support the preservation of the Morris Island Lighthouse by Save The Light, a grassroots non-profit organization that formed in 2000 to save the Morris Island Lighthouse from being lost to the sea. Both races are USATF-certified and start and finish near the Folly Beach Pier. Half Marathon is a run only event. The 5K is open to runners and walkers. 5K: $42 per person, ages 8 & up. Half Marathon: $60 per person, ages 10 & up. Registration closes on Jan. 30. www.ccprc.com.
Squirrel Nut Zippers and the Dirty Dozen Brass Band
Feb. 7
New Orleans' most celebrated modern brass band, The Dirty Dozen Brass Band, pairs up with the Squirrel Nut Zippers and their multi-platinum blend of 1930's era jazz, swing and folk. The performances by these two critically acclaimed bands make for a delightfully eclectic and entertaining evening, with two sets plus collaboration. Tickets start at $25 (plus fees). Charleston Gaillard Center, 95 Calhoun St. www.gaillardcenter.org
Ducks Unlimited Oyster Roast and Lowcountry Cookout
Feb 17
Join East Cooper Ducks Unlimited for their annual Oyster Roast and Lowcountry Cookout at the Charleston Visitor Center Bus Shed. One of the largest Ducks Unlimited events in North America hosted by Ducks Unlimited and East Cooper Chapter. Indulge in oysters and a classic Lowcountry cookout, an open bar, music, raffles and live and silent auctions. Only 1,500 tickets will be available and must be purchased in advance. $100 per person. Doors open 6:30 PM. 375 Meeting St. www.eastcooperdu.org.
Chamber Music Charleston Salon Series
Feb 19
Enjoy a candlelight concert featuring music for string quartet at the historic South Carolina Society Hall downtown. Violinists and a cellist will perform string quartets of Mozart and Beethoven. Tickets to the performance include a light reception with the performing musicians and fellow audience members. www.chambermusiccharleston.org/salon-series
Sea and Sand Festival
Feb. 25
This family-friendly street festival at Folly Beach is Folly's longest running festival with a weekend full of family-friendly events, sandcastle building competition, arts and crafts vendors, live music and other entertainment. www.visitfolly.com
Humans 2.0 by Circa
Feb. 25
Created by circus visionary Yaron Lifschitz, this performance by Circa's internationally acclaimed Humans is a tightly woven choreography of bodies, pulsing with music by composer Ori Lichtik and revealed in Paul Jackson's dramatic lighting. 7:30 p.m. Tickets start at $25 plus fees. Charleston Gaillard Center, 95 Calhoun St. www.gaillardcenter.org
Alladin
Feb 22-26
Discover a whole new world when Disney's Aladdin, the hit Broadway musical, comes to North Charleston. The thrilling new production is filled with unforgettable beauty, magic, comedy, and breathtaking spectacle. It's an extraordinary theatrical event where one lamp and three wishes make the possibilities infinite. Directed and choreographed by Tony Award-winner Casey Nicholaw with sets, costumes, and lighting from Tony Award winners Bob Crowley, Gregg Barnes and Natasha Katz. Tickets start at $35. 5001 Coliseum Drive, North Charleston. www.northcharlestoncoliseumpac.com.