Farm to Table
03 May 2019
Spring has sprung and in the Lowcountry that means the warm weather is here to stay, bringing with it a bounty of fresh produce. We've created a seasonal menu of vegetables and fruits, all available at your local market. Delicious meals abound. Think of a homemade lemon strawberry pie or a spiced okra succotash so vibrant it tastes like it came straight out of the garden. You don't need much to showcase fresh herbs and produce. Kick back with a refreshing lavender craft cocktail and enjoy the spring evenings. We hope you find inspiration for your next gathering, big or small, or even just a Sunday night dinner with the family.
By KAITLIN GOODING » Photos by SALLY TAYLOR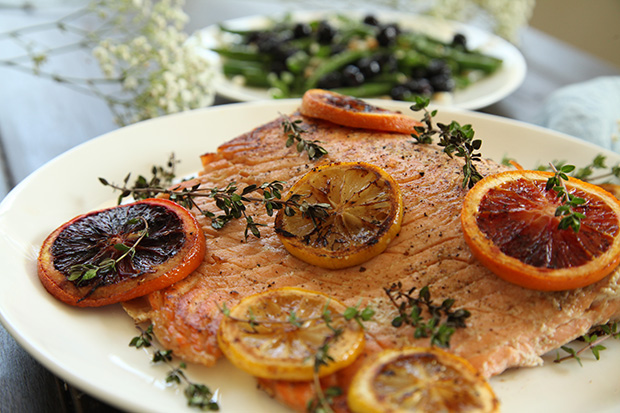 GREEN BEAN SALAD
Serves: 4
Ingredients:
1 lb green beans (snap the ends)
1 lime
1 tbsp honey
1 cup pine nuts
1 tsp garlic powder
Large bunch basil (chopped)
1 tbsp coconut oil
Salt/ pepper
Goat cheese crumbles (as desired)
Directions:
Add the green beans to a skillet and toss in coconut oil. Sprinkle with salt and garlic powder. Let cook, continuously stirring, until lightly browned. Remove from heat and set on plates.

Add the blueberries to the skillet and let cook until slightly oozing juice. (Optional - Add the blueberries on top of the green beans.)

Top off with pine nuts and goat cheese.

Lightly drizzle honey over top, squeeze the lime juice, and sprinkle with pepper. Serve warm.
COCONUT SHRIMP WITH PINEAPPLE DRIZZLE
Serves: 4
Ingredients:
1 lb shrimp (peeled)
1 egg
5 tbsp water
1/2 tsp garlic powder
1/2 cup all-purpose flour or coconut flour (gf)
1 - 1 1/2 cups shredded coconut
Salt (as desired)
2-3 tbsp coconut oil
Sauce:
1 cup plain greek yogurt
1 cup pineapple
Directions:
In a bowl mix the egg and water together. In a separate bowl add the shredded coconut, flour, dash of salt, garlic powder, and mix well.

Add a skillet on medium heat to the stove. Add the coconut oil and let it warm through to cook the shrimp.

Dump the shrimp in the egg mix. Immediately coat the shrimp in the bowl with the flour mix. Add the shrimp to the hot skillet. Continue this process with all shrimp are cooked for about 4-6 minutes or until lightly browned and cooked through. Flip the shrimp to cook on both sides half way through.

Add the ingredients for the sauce in a blender. Mix until smooth.

Plate the shrimp and drizzle the pineapple sauce over top. Top it off with a dash of salt and serve warm.
OKRA SUCCOTASH
Serves: 4
Ingredients:
2 cups okra (cut into 1-inch increment)
2 cups corn
1 cup cherry tomatoes (halved)
1 cup edamame
1 tbsp extra virgin olive oil
1 tbsp smoked paprika
1/4 cup pecorino
1 small red onion
1 garlic clove (chopped)
Salt/pepper (as desired)
Directions:
Add okra, onion, corn, edamame, and tomatoes to a skillet and pour olive oil over top. Mix well until all is lightly coated.

Sprinkle smoked paprika, garlic clove, and a dash of salt over top. Mix well and continue stirring as you cook for 5-7 minutes.

Remove from heat and add pecorino and a light dash of salt.
LAVENDER GIN & TONIC
Serves: 1
Ingredients:
4-6 oz tonic water
.75 oz lavender syrup
1.5 oz gin
1 lemon + extra for garnish
Directions:
Shake gin and lavender syrup with ice.

Add the juice of 1 lemon to tonic and mix.

Add gin and lavender mix to a chilled glass and pour tonic water over top.

Finish off with a lemon wheel and small piece of lavender.
CITRUS SALMON
Serves: 2
Ingredients:
1.5 - 2 lbs fresh salmon filet
1 blood orange
2 lemons
Bunch of thyme sprigs
1 tbsp extra virgin olive oil
Salt/pepper (as desired)
Directions:
Preheat oven to 300 degrees.

Cut half of the lemon and half of the blood orange into 1-inch slices. Set aside.

Drizzle olive oil over top the salmon. Add salt and pepper to the flesh side of the salmon. Squeeze the other halves of lemon and orange over top.

In a warm cast iron skillet on the stove cook the fish flesh side down for 3-5 minutes until golden brown. Flip the salmon over skin side down.

Top with lemon and orange slices and thyme sprigs. Pop into the oven for another 5-10 minutes or until cooked as desired.
Note: Cook time will vary on the thickness of the salmon.
STRAWBERRY-LEMON LATTICE PIE
Serves: 4 4-inch Mini Pies
Ingredients:
Crust
2 cups all purpose flour
2/3 cup butter
2 eggs
5-6 tbsp water
Dash of salt
Pie Filling
4 cups strawberries
1 tbsp cinnamon
6 tbsp flour
1 tbsp butter
1/2 tsp apple cider vinegar
1 lemon
1 cup sugar
Directions:
For the pie filling, cut the lemon in half, length wise and then make extremely thin slices all the way down. Add all ingredients into a small bowl and set aside. Set aside.

For the pie crust, add the dry ingredients together in a large bowl. Begin adding the butter in by mashing the butter and the flour together. Add the eggs and the water in small increments. Using your hands, mix the ingredients together into a ball and begin to knead the dough. Once the dough begins to hold shape roll into 2 balls, place in a covered bowl, and set in the refrigerator for about 20 minutes.

Once it has sat in the fridge, roll one ball of dough out about 1/8 in thickness and cut out 4, (6.5 - 7in) circles. Place each inside small ceramic 4-inch (7oz) pie pans.

Preheat the oven to 350 degrees.

Spoon the filling into each pie.

Remove the other ball of dough out of the fridge and roll out into the shape of a rectangle. Using a knife cut out 1/2 inch strips to lattice your pie crust. Fold any excess dough on the sides over for the crust.

Weave the strips on top of the pie. Brush the top crust with egg wash or butter and sprinkle with sugar over top.

Place pies on a baking sheet and add to oven. Cook till crust is golden brown, about 20 minutes. Remove and allow to cool before serving.