Fine dining in the heart of downtown
By Wendy Swat Snyder
Photos by Jim Stefiuk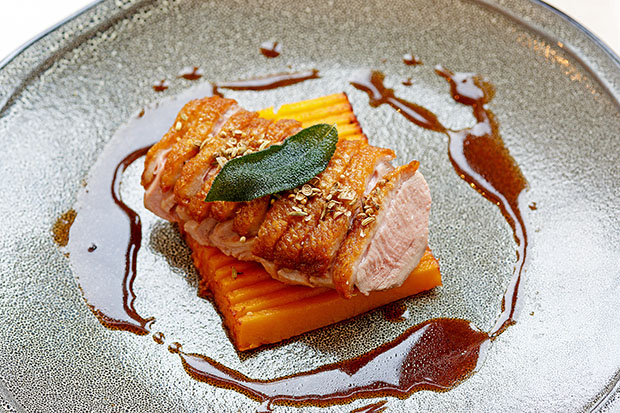 A fisherman's cast net, spun in crystal, hovers above the dining room, glowing with diffused light. Understated and elegant, the centerpiece sets the tone for Gabrielle.
With a contemporary twist on coastal culture, the signature restaurant inside Hotel Bennett downtown captures the spirit of Charleston and the Lowcountry cuisine that established it on the country's culinary map.
Anchored on historic Marion Square, Hotel Bennett exudes the luxury of Europe's grand hotels with a host of enlightened Southern menu classics to match. She crab soup, Kurobuta pork chop, Carolina Gold Rice white truffle risotto all shine under the auspices of Hotel Bennett executive chef Robert McGrattan.
The flagship property of Bennett Hospitality opened in 2019, culminating a decades-long plan by developer Michael Bennett's to "build one of the finest hotels in America—featuring materials like limestone, bronze, marble, copper." The native Charlestonian began his entrepreneurial career as a kid, renting Mopeds to tourists back in the 1970's, and "did all the grunt work" himself when he purchased his first fixer-upper.
In his plans for the new hotel, Bennett honored his past, orienting the entrance across from the spot where his late father shined shoes during the Great Depression. The blueprint for the property's build-out was the Palladian architectural style, which emulates the symmetry and values of the formal classical temple architecture of the ancient Greeks and Romans.
Design Continuum Inc. (DCI), picked up the thread in creating an interior design that felt centuries old, with subtle changes that represent modern and Southern design. For example, DCI used many of the historic homes in Charleston as design references. Wall murals and other artwork in the hotel and restaurant showcase Lowcountry landscapes painted by local artists admired by Bennett.
Today the recipient of national and international acclaim, Hotel Bennett has been rated one of the top five hotel openings in the world by Preferred Hotel and one of the top new hotels in the world by Conde Nast Traveler.
"I joined the Gabrielle team to take it, and myself, to the next level," says McGrattan, a recipient of a James Beard House invitation for his menu development. "Culinary is really a journey. I showcase different styles of cuisine so the staff can expand their palate—it's about getting more excitement into the environment—the more the staff enjoys coming to work, the better for the guest."
Stepping from King Street into the hotel entryway, my guest and I made our way to the restaurant, where we were greeted by a friendly host presiding over an inviting sitting area near the Gabrielle bar. Intimate and atmospheric, the lounge was warmly lit and furnished with an array of commodious seating conducive to social conversation while sipping preprandial cocktails.
The adjoining dining area was a soothing study of relaxed Southern elegance in warm neutral tones, with subdued custom lighting and seating in polished brown leather at marble topped tables. Built-in sofas, traditional paneling and antique mirrored columns added to the stately, yet cozy ambiance. Richly toned walnut floors were hand planed, and the ceilings in this space were made by a small atelier in Chicago that has been producing cast plaster architectural products since the 1800s.
Our amicable server, J.D. Perez, introduced the Gabrielle menu with a knowledgeable overview and thoughtful recommendations based on our comments. We started with the oregano-crusted bone marrow, a rich dish we gobbled up—scooping the buttery marrow onto a grilled baguette with a bit of a sweet shallot jam.
Next, one of the best tuna carpaccio dishes either of us could remember ever tasting—and also a favorite of the chef's. Bright with an orange and hot pepper vinegar, jalapeno slices spiced up the presentation of finely sliced fish while micro cilantro balanced out the flavors. A sprinkle of benne seeds finished the must-have app.
We sampled a Lowcountry-style blue crab cake appetizer as well—a tasty quarter-pounder with a light, orange butter crust that was served with a Charleston hot pepper remoulade.
We opted for entrees from the land and sea. Garnished with sweet pomegranate, the seared duck breast was another that ranked in the best-of category. Tender, perfectly cooked, it had a crunchy bite to it that McGrattan says is his confit spice.
"It really elevates the dish—we toast coriander, mustard seed, a little Chinese five spice. A lot of times simple is better, the ingredients can be simple, but you can highlight them by using them in a different way."
The seared Carolina flounder was a beautiful presentation of a lightly-crusted filet, scented with preserved lemon, served on a bed of heirloom Sea Island red peas and an herb pistou.
McGrattan says he sources the best ingredients he can find, including seafood from Crosby's Seafood, Carolina Gold Rice and stone ground grits from Marsh Hen Mill on Edisto Island.
"For me it's about finding the purveyor's top products," notes McGrattan. "It's an interesting time since a lot of people have gone out of business. We're hoping to see a lot more of the farms and fisherman going forward."
Side dishes included a roasted beet salad comprised of perfectly cooked red and golden varieties plated on a goat cheese mousse, garnished with whole pieces of grapefruit and moistened with a bright, citrus vinaigrette. A peanut pesto finished this outstanding dish.
The brussels sprouts were cooked just right, not overly charred, and garnished with pomegranate, an unusual addition that really lightened the savory dish. A lovely broccoli rabe dish was given a salty/ sweet twist with the addition of champagne raisins and smoked pork jowel. Potato Dauphinoise—a recipe I love—was an indulgent dish of micro thin potatoes, Emmenthaler cheese and a chive crème fraiche.
We finished with a shared truffle—a bonbon of flourless chocolate sponge cake and Venezuelan chocolate parfait served with a drizzle of Grand Marnier sauce—a sweet delicacy from the kitchen of pastry chef Remy Funfrock.
From where we sat, the lush park setting of Marion Square was in full view; outdoor seating provided peeks of beautiful St. Matthew's Lutheran Church. With outstanding food and service, Gabrielle offers guests a microcosm of the best of Charleston hospitality.
Gabrielle
404 King Street
Charleston
843-410-0513
https://www.hotelbennett.com/dine/gabrielle