Charleston Wine + Food Festival
05 Jan 2022
Best Bets for the 16th Annual Event
by Elise DeVoe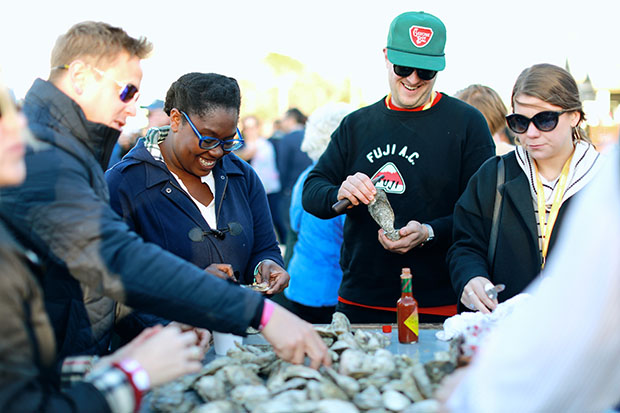 The annual Charleston Wine + Food festival will return March 2-6 after a year of reflection and planning following the canceled 2021 event due to the COVID-19 pandemic.
After a year off, the 16th installment of the Charleston Wine + Food festival will bring people together from around the country to put a spotlight on Charleston and celebrate the food, history and community that makes it one of the best cities in the world.
This year's event will offer over 100 experiences during the five-day festival, many at Charleston restaurants and others in special excursions. Celebrity chefs, both from Charleston and around the country, will hold demos and workshops.
Expect to see events that have been around since the beginning, such as Gospel Brunch, Shucked, The Finale and Pinot Envy! wine event, alongside new and exciting additions.
A major pivot this year is a venue change for the popular Culinary Village, which is moving off the peninsula this year for the first time.
The decision to move from Marion Square downtown to Riverfront Park in North Charleston was largely due to a need for more space, but there's also an aspect of parking accessibility. The Culinary Village tickets are a four-hour all-inclusive experience where attendees browse different booths sipping and sampling, with chef demos and live music.
The festivals' Opening Night, which historically took place in Marion Square, will be relocated to The Cistern at the College of Charleston this year.
Festival History
Charleston Wine + Food was founded in 2005 by a group of community leaders who wanted to create an event to promote and elevate Charleston's culinary brand. Over the last 16 years, the festival has grown to 335,000 attendees and a $112.2 million economic impact.
Charleston Wine + Food is a 501(c)(3) registered nonprofit. CHSWFF strengthens the sense of community and supports local businesses in Charleston, which is more important this year than ever before.
New This Year
Riverfront Park will not only serve as the new location for the Culinary Village, it will be the venue for the festival's first nighttime concert programming called NightCap.
Music has always been part of the festival, but the new two-night concert series on Friday and Saturday night is an exciting shake up in the programming. Friday night's headliner is Lake Street Dive and Saturday's headliner is St. Paul & The Broken Bones along with 2020 Grammy Awards Best New Artist nominee Tank and The Bangas.
NightCap concert tickets are not an all-inclusive food and beverage ticket, but bites and sips will be available to purchase separately at the event.
Also new this year is an additional emphasis on experiences rooted in educational storytelling. Below are some picks for a deeper dive into culinary traditions:
-Fire, Smoke, and Soul, hosted by local Gullah historian and chef BJ Dennis, will take attendees on a journey from the Lowcountry to the West Indies and West Africa with a taste of street food prepared through the lens of the African Diaspora.
-Salaam Namaste, with Malika Pakistani Chai Canteen, will showcase an educational and collaborative dinner by Maryam Ghaznavi and TV personality and chef Maneet Chauhan that explores the subcontinent and experience of Pakistani and Indian cuisine.
-Holy City Brewing will be transformed to embody the feel of an international Asian Street Market for Street Eats, which will feature the Lowcountry's burgeoning Asian food community.
-Power to the Pastry will feature acclaimed pastry chef and founder of Bakers Against Racism, Paola Velez, for an empowering breakfast experience at at babas on meeting downtown.
Free programming will be offered for the first time in the festival's history this year. There will be a pavilion adjacent to the ticketed Culinary Village where guests can be part of the action without a ticket. The pavilion will provide spaces for conversation and food trucks. Organizers will also be announcing free, family-friendly programming in Hampton Park for the first time.
"Our festival was born to shine a spotlight on Charleston's local and regional culinary scene, and we continue to do that," said Alyssa Smith, marketing and communications director. "While we've certainly helped boost awareness, we don't consider our work done. There are always opportunities to broaden and diversify the experiences we present our guests. This is a dynamic food scene, and we want to always reflect that."
Safety Protocols
Charleston Wine + Food is requiring all guests, staff, talent and vendors to provide proof they are fully vaccinated against COVID-19 or provide proof of a negative COVID-19 test 72 hours prior to each day of attending the festival. Masks will not be required, but will be available.
Ticket Exchange
While many of the events for the 2022 Charleston Wine + Food festival sold out on the first day they went on sale, luckily, there is a ticket exchange, so don't give up hope on attending your favorite event.
Simply request a ticket on the event you'd like to attend through the official website and the exchange will allow you to automatically purchase as soon as tickets become available.
Even if your desired event remains sold out, this year has so many new and exciting events to experience. Take a leap of faith and try out a new event.
For a full schedule and tickets, visit www.charlestonwineandfood.com.