Matchmaking 101
01 Jul 2012
We catch up with Buffie Bell, and get the scoop on her new dating service that has seen several couples landing at the alter.
By AMY KEHM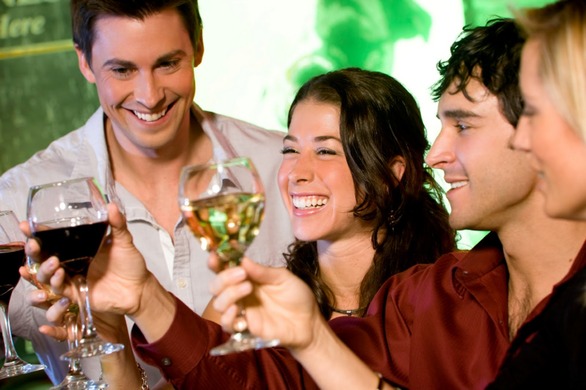 Women, have you grown weary of cheesy bar pickup lines? Men, do you feel lost in a sea of online dating profiles? Have you both suffered far too much whiplash from speed dating?
Why not simply unwind with a glass of wine and wait for love, or rather, wait for someone to help guide you there? It is at that easy place of relaxation, with comfortable conversation among new friends, where men and women toast to romance.
Charleston has such a dating experience. It is called Wine Pairings, what founder Buffie Bell Lilly calls a "brand new approach to matchmaking" for the Charleston region.
Lilly, herself, met her husband on a blind date and, thus, believes in the process. But instead of basic blind dates, she has put a special spin on the dating experience, refined it, and offered Charleston area singles an enjoyable way to connect.
The concept planted its seed in Lilly, a South Carolina native, years ago while she lived in Chicago. She had cruised the dating scene with friends, to no avail. She saw what her friends went through with online dating struggles.
"There has got to be a better way to do this," Lilly thought.
She wondered how adult men and women in their 20's or 30's met. While in the wedding party of a couple (one of seven married couples she introduced), it dawned on her.
"I thought, 'I must be good at this,'" Lilly laughed. "People have always told me I'm good at reading people."
Lilly realized she could turn her enjoyment of both people and wine into a business. From her own dating experiences, she knew what worked and did not work.
"Why can't I do it through wine tastings?" she wondered. "Everybody just hanging out and you don't have to go out with anybody if you don't want to."
Wine Pairings was born. The system of matchmaking is unique and begins with a one on one interview. Lilly asks men and women about their dating history, hobbies, interests and she explores their personalities.
"I think it's really about listening to people and finding out what their interests are," she explained.
Lilly takes the information and compares it to other clients. She then invites three women and three men together for a fun evening of wine tasting. Uncorked in Mount Pleasant most often hosts. Gatherings have also been held at Harbour Club in Charleston and Laura Alberts on Daniel Island.
There are no cheesy ice-breakers or name tags. Instead, Lilly introduces each client and spurs conversation. Amazingly, she watches connections begin. She credits Wine Pairings' easy environment, standing at tables with glasses of wine, for the success.
"It's very relaxed and easy to meet someone, but also with a very sophisticated feel to it," said Lilly. "I think the two most important aspects of our matchmaking process are a relaxed environment with sophisticated singles in attendance."
"With five other people around you, you don't feel so on the spot."
While the Wine Pairings system proved to be popular with 20 and 30-somethings, Lilly soon realized that the relaxed environment appealed to singles of all ages.
"Our database of clients range in age from 24 years old to 72 years young."
Some of Lilly's most revealing feedback came from a 45-year-old father. He commented that the wine tasting was such an enjoyable experience and something he could be proud of – a fun, mature event.
"It makes me feel like I am meeting people in the right place. And meeting the higher caliber of women feels good," he told her. "I have two children at home."
"The best feedback I get from men is how relaxed it is," said Lilly. "It really is just having drinks!"
For Lilly, a sincerely kind and warm person, coordinating connections is natural. Lilly's undergraduate degree is in sociology – the study of people. Previously she has entertained people as a singer at Dollywood, and graduated from MUSC and served as an occupational therapist.
"I will say my whole life has always been centered around serving people."
Lilly takes pride in how Wine Pairings offers much more of a personal approach to each client, unlike more expensive, bigger chain matchmaking services. She watches love bloom, something she finds deeply motivating and deeply rewarding.
"To me, it really is instinct. And it really is listening to what people say," she noted. "I'm just elated; like I'm doing what I am meant to be doing on this earth." 843-460-4969, www.charlestonwinepairings.com.