Family Values
07 Mar 2019
In existence since 1930, Stuckey Furniture always offeres the latest styles at affordable prices
BY JOHN TORSIELLO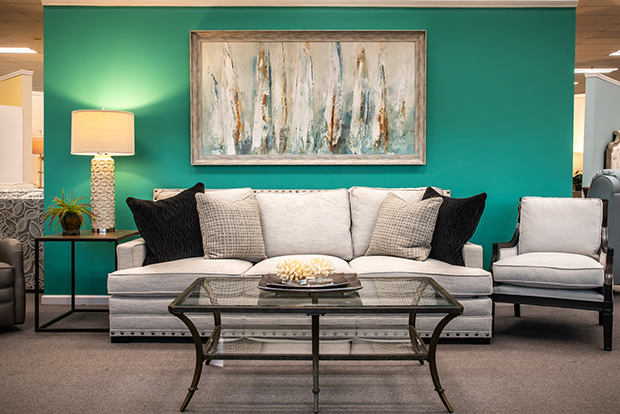 Lee Stuckey's admittedly semi-retired, giving him plenty of time to pursue his hobbies while also keeping his hands in the family business. Today, he mainly stops by the Mount Pleasant store (there's also one in Stuckey, S.C.) to make sure things are running smoothly, just as they have been since his father, Dexter L. Stuckey, started the business in 1930 in the small town that bears the family name.
Stuckey Furniture has the distinction of being South Carolina's oldest family-owned furniture retailer and perhaps the first one to sell out of state. The company has always prided itself on selling at the lowest prices possible, keeping expenses low, and owning its showrooms and warehouse spaces. Seventy-five percent of the items it sells are American made.
The company began in a rather inauspicious fashion, as many family businesses often do. Dexter L. Stuckey was a member of the Woodmen of the World and the group needed chairs for its meeting hall, so says the store's history. The entrepreneurial patriarch ordered a truckload of some 700 slat-bottom chairs, 20 of which were given to the Woodmen of the World for their hall. The others were displayed at the family's automotive garage/grocery store, priced at $1.25 each. It took only two weeks to sell out the inventory of the simple chairs, and Stuckey found that customers came back looking for tables, beds and other items for their homes, thus birthing Stuckey Brothers Furniture.
The store's big break came when it began selling to military families in the area and at Fort Bragg, N.C. As the furniture traveled throughout the country, the military customers spread the word about the Stuckey's affordability and its quality of furniture. Eventually, Stuckey's sold a great deal of furniture to the Washington, D.C. area and elsewhere in Maryland and Virginia. Today, Lee, along with Bill Stuckey and Lee's son, Dexter, III, oversees the firm's operations.
"We keep our overhead costs down so we don't have to mark up our furniture and other items," said the 75-year-old Lee Stuckey, who has spent a remarkable 63 years in the business, starting as a warehouse worker. "We also have a leaner staff these days, which helps keep our expenses down." The Mount Pleasant store sells sofas, chairs, sleepers, recliners, coffee tables, TV consoles, bedroom and dining room pieces, desks, wall art, lamps and mattress sets.
Stuckey has seen countless changes in buying trends among its customers over the years. The Mount Pleasant showroom now features furniture and other accessories for the home that might be termed coastal casual. "We have seen a trend towards people furnishing their homes in a more casual manner, although we still do sell formal pieces," Stuckey says. "Many homes now feature an open floor plan, so that allows the owners to furnish their homes with one style that flows together."
While Lee Stuckey remains the man who makes the final call on many company matters, he also empowers his staff and buyers to make their own decisions when it comes to ordering. "They have good taste and knowledge of what our customers want and I trust their decisions."
A trustworthy staff allows Stuckey to enjoy his time away from business. "My passion really is boating," he said, adding that he and his wife Martha Ann travel to the Bahamas and Florida for several months each year. Stuckey's even taken up the un-Southern-like sport of skiing. "I had a business trip planned to Colorado some years back and it fell through, but I still decided to go. I visited Aspen and some of the other ski resorts, took a lesson and got hooked. I'll be out there a week and I'll ski five days."
Stuckey also has a taste for good wine. Indeed, he had just received a shipment of several cases at his store. He explained with a smile, "I'm in a wine club. It's something I enjoy and I've traveled out to California to visit the vineyards there. We have opened a bottle in the showroom at times and had a glass with customers." Lee Stuckey might be semi-retired but he still finds enjoyment in meeting customers face-to-face whenever he can, like his family has done for almost 90 years.