Pure Indulgence
01 Nov 2012
Great personal service and a warm relaxed atmosphere sets Paloosh Salon apart from the ordinary.
By AMY KEHM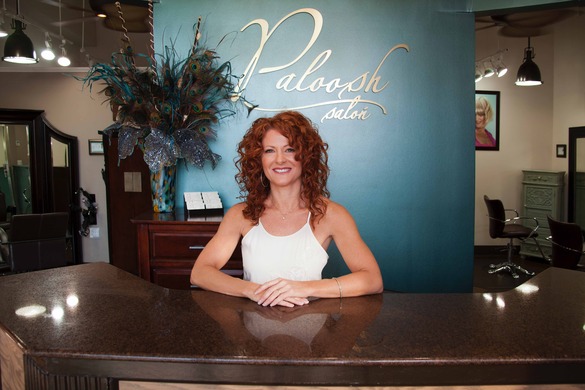 "Paloosh." Say the name aloud slowly and see what feelings come to mind. Do you feel peaceful and pampered in a charming, cozy, sort-of way? That is what Holly Powell hopes you feel.
Powell opened Paloosh Salon in February 2008 on Ashley River Road in West Ashley. And with that opening Powell found ultimate fulfillment.
"It has taken on a life of itself," Powell said of her venture.
Powell chose the name after visiting a quaint boutique in Carmel, California. It was a happy, soothing place. She could not shake the lovely feeling so she brought it back with her to South Carolina.
From the moment they enter, clients realize that Paloosh is something different and special. Soft, soothing colors such as turquoise and chocolate welcome you. A friendly face greets and escorts you to your pampering place.
Each of those pampering places is an intimate spot where clients experience a getaway from the often frazzled pace of day-to-day life. The hair styling area is cozy, and there are separate rooms for manicures and pedicures, hair and eyelash extensions, waxing and makeup.
There is no hint of cookie-cutter styling as each station, while universal in its soft, welcoming feel, boasts an individual uniqueness.
"I wanted a feeling that when you come in the door it was not a spa atmosphere, but more of an 'ah,' Powell explained.
Artistry runs in Powell's blood, figuratively, but also in her family. Her mother was a commercial artist and as a young girl, Powell had a passion for drawing and painting. She mainly grew up in New York, but her family moved to the Charleston area when she was in high school. Just a few years later, life took them back north again. But at 19-years-old, Powell opted to stay put in the Lowcountry.
She soon went to school and pursued a commercial graphics education, but she stepped away, knowing that while it sounded artsy, it simply was not for her.
Instead, she focused on being a wife and mother, while also returning to her love of painting. In fact, she sold work in a local gallery and pondered how else she could use her hands as a form of expression.
"My mother had always wanted me to go to hair school," she recalled. "I always played with hair."
At age 29, Powell enrolled in cosmetology school "and just loved it." She spent many years working in salons, consistently growing and evolving.
"Reaching out for as much education as I could," Powell explained, "I loved being on the cutting edge of the industry. Every component of our field is amazing and exciting."
She found love again and after nearly a decade of courtship married her perfect mate, Glenn, in 2006. With Glenn's support, Powell decided to step out and live her dream.
He is a "wonderful partner," Powell said of her husband. "An amazing support, an unyielding strength in my career."
"Opening a salon had been in the back of our minds for sometime. He (Glenn) is the person I admire and respect most in this world. He believed that I could do this and be successful. So we did."
Now more than four and a half years later, hard work and passion have blossomed into success. Paloosh offers what Powell describes as "an intimate salon experience."
"This is our motto. We want you to have a feeling of comfort and relaxation."
Paloosh offers a "team of artists." Powell's daughter, Chelsea, and Chelsea's best friend, Jill helped launch the salon. Later, Kacy, Lindsay, Shelcie, Kristen, and Lauren joined the team. Powell and the women offer talents such as hair sculpting, color, hair extensions, lash extensions, and manicures/pedicures. Their focus is always that of genuine attention to each client's expectations.
"It is our goal to make their visit as extraordinary as possible," said Powell. "When you walk through the door, you are greeted very happily. From that first step into our salon you are catered to all the way through to the end of your visit."
"We are also a close-knit team. We support each other. This is very important to the atmosphere of the salon."
Powell's joy over how her path turned and her love and pride for her team sparks an emotional response.
"When I look across and they are cutting hair my way, it is beautiful," Powell said with tears in her eyes.
Yet, she also encourages her team to try new things and grow personally. Powell adores her team, her venture, her family and her life in the Lowcountry.
"We can actually help people to feel self assured and radiant about themselves. We have the ability to turn someone's rough or unpleasant day into an exceptional day."
"I'm not done yet, I know that." she noted. "But I just want to make Paloosh Salon the most wonderful, best place it can be."