Holiday Dining
07 Nov 2019
by Jenny Peterson
Whether you're planning a holiday happy hour, a romantic date or simply letting Charleston kitchens take over cooking for Thanksgiving and Christmas, here's a list of where to eat (and what's open) this holiday season.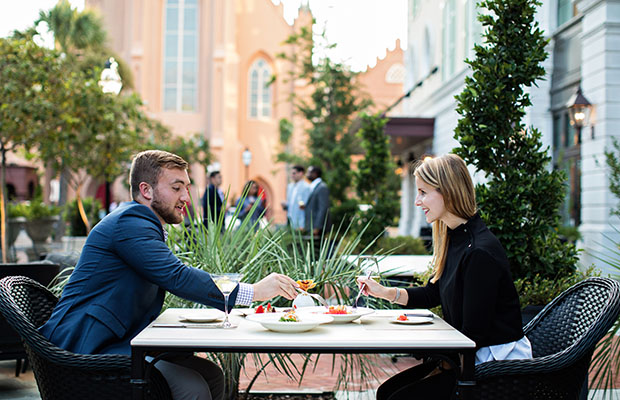 Jasmine Porch (Kiawah)
Celebrate the holidays with an ocean view and elevated Lowcountry cuisine on Kiawah Island. On Thanksgiving, Jasmine Porch will serve a bountiful buffet featuring traditional favorites, live music and a complimentary glass of champagne. There will be a special Christmas Eve dinner menu and Christmas Day buffet. A New Year Day brunch will serve up shrimp and grits, Hoppin' John and more. Diners do not need to be guests of the hotel. Call 843-768-6252 for reservations.
Coastal Crust (Mt. Pleasant)
Settle in at an outdoor firepit with a glass of wine, cozy blankets and string lights at Coastal Crust Brick & Mortar, adjacent to the cozy Vintage Coffee at 219 Simmons Street. Coastal Crust began as a beautifully restored 1950s antique truck serving delicious Neapolitan wood-fired pizza. The restaurant expanded into a permanent location, open daily and kid-friendly, serving shared plates like homemade meatballs in a skillet, charcuterie boards, wood-fired pizzas, craft beer, wine and more.
Black Wood Smokehouse (West Ashley)
The comforting scent of a wood-burning fire welcomes diners at Black Wood Smokehouse in the Windermere Shopping Center. Locally-sourced BBQ plates and mouthwatering smokehouse pasta, along with creative holiday cocktails, will ease you into the holiday season. With room to accommodate parties of 15, it's a holiday crowd-pleaser for lunch and dinner. A holiday plate with turkey, green beans, hash and rice with sausage gravy will set you back only $15.
Halls Chophouse (Downtown and Nexton, Summerville)
Let the fine dining experts at Halls Chophouse host an unforgettable holiday meal with expertly-crafted dishes and impeccable service. Chosen as one of the OpenTable Diners' Choice Top 50 Best Overall Restaurants in the country, this Lowcountry institution is known for its USDA prime steaks from Allen Brothers of Chicago, hand-selected, aged with meticulous processes, and hand-cut to exact portion specifications. Group private dining is available for holidays and celebrations.
Fratello's Italian Tavern (Park Circle, North Charleston & I'On neighborhood, Mt. Pleasant)
Warm up this holiday with Italian comfort food at Fratello's Italian Tavern. The cozy family-owned and operated restaurant uses recipes passed down from generation to generation like Manicotti al Forno, fresh-stuffed pasta with a seasoned blend of cheeses, baked to perfection or Linguine alle Vongole with little neck clams, simmered in parsley, olive oil, garlic, and butter. A stylish bar serves specialty cocktails and some of Italy's most popular wines.
Peninsula Grill (Downtown)
Guests enter the romantic and warm dining room hidden amidst a lush courtyard garden, illuminated by flickering lanterns. Refined fare includes baked oysters Rockerfeller style and a pistachio-crusted lamb rack. An extra special treat for the holidays is Peninsula Grill's famed Ultimate Coconut Cake. The 12-layer cake is enveloped in golden-toasted coconut and served by the slice in the dining room and shipped whole across the United States via online ordering or available for local pickup.
Hank's Seafood Restaurant (Downtown)
Open for Thanksgiving, Christmas Eve, Christmas Day and New Year's, Hank's Seafood is Lowcountry dining at its finest. The restaurant, located half a block off the Charleston City Market, recreates a classic Charleston Fish House with an old-fashioned saloon-style bar and raw bar. The seafood-forward menu includes Hanks' Oyster Stew, chowder-style with oysters, leek, potato and bacon. A special Thanksgiving menu will include pumpkin and lobster bisque.
Slightly North of Broad (Downtown)
Slightly North of Broad, or SNOB, is a stone's throw from Rainbow Row, serving Southern fare in a relaxed fine dining environment. SNOB will be open on Thanksgiving from 11 AM – 7 PM with a prix fixe menu that includes traditional favorites and Bourbon pecan pie. Christmas Eve hours are 11:30 AM to 8 PM with an a la carte menu. An array of winter cocktails includes the Barn Raiser, with honey-infused bourbon, Blenheim's ginger ale and orange bitters.
Rue de Jean (Downtown)
It's hard not to get into the holiday spirit at this lively and refined brick-walled French restaurant downtown. French classics served daily include a melty French onion soup gratinée, with caramelized onion broth and croutons; braised rabbit with white wine, crème fraîche, whole grain mustard and pommes dauphinoise; and six mussel preparations. Rue de Jean is open on Christmas Eve and private event space is available for large parties.
Mason's Famous Lobster Rolls (Downtown)
For holiday shoppers downtown at the famed Charleston City Market, Mason's Famous Lobster Rolls is a welcome treat to break up holiday shopping—especially during happy hour with beer and wine specials. A one-of-a-kind lobster shop on North Market Street, Mason's gets its lobster exclusively from New England waters and piles it high. Try the Bar Harbor Feast, a 1-¼-pound lobster on a split-top bun or warm up with a bowl of clam chowder.
Bistro Toulouse (Mt. Pleasant)
This cozy French restaurant in Mt. Pleasant will be open on Christmas Eve from 4:30- 8:30 PM with a decadent three-course menu that includes foie gras, roasted goose, prime rib and a red velvet souffle for dessert. Optional wine pairings and holiday cocktails like a gingerbread martini will get diners into the holiday spirit. A New Year's Eve menu, from 5-9:45 PM will be a five-course menu featuring a lagniappe amuse bouche, festive décor and party favors.
Mondo's Italian Cuisine (James Island)
This neighborhood favorite is always warm and welcoming, with fresh-made pastas, baked dishes, soups and salads. The extensive menu includes creative appetizers and classic Italian dishes including the popular spaghetti and meatballs, featuring three beef and pork meatballs in tasty marinara. The outside patio is open all season long, weather permitting, for al fresco dining under string lights. A full bar and Italian desserts like chocolate chip cannoli make for the perfect holiday indulgence.
Muse (Downtown)
A restaurant housed in a historic Charleston single on Society Street will be decked out for the holidays and feature a festive cocktail list including an espresso martini with peppermint Crème de menthe. The menu changes seasonally, with selections like a whole crispy sea bass deboned and fried over green white rice, spinach, dill and garlic with a black olive dressing. Private parties are available with custom menus, and the dining rooms in the old house are a delight to walk through.
Gabrielle (Downtown - inside Hotel Bennett)
Gabrielle, located inside the exquisite Hotel Bennett just off Marion Square, will be open for Thanksgiving with a pre fixe menu, on Christmas Eve with dinner specials and offer a Christmas Day brunch buffet with elaborate carving stations. Executive Chef Michael Sichel has New Orleans roots and added an okra and andouille gumbo to the Thanksgiving menu and a roasted grouper Creole for Christmas Eve. A special Christmas tea service for kids at the hotel will delight all ages. Visit hotelbennett.com events calendar for tea times.
Crave Kitchen and Cocktails (Mt. Pleasant)
If your Thanksgiving isn't complete without mac n cheese, consider that Crave Kitchen and Cocktails has been a five-time winner of the Charleston Mac Off and credited with making, "The Most Life-Changing Mac 'N' Cheese in America." The lively dining room and bar serves exceptional dishes and classic cocktails in an upscale, casual atmosphere. Offering lunch, dinner and weekend brunch, Crave is a proud member of Certified SC Grown's "Fresh on the Menu" program, supporting local growers, producers and farms.
Mill Street Tavern (Mt. Pleasant)
With the bustling holiday season, take a time out to slow down and watch the water at Mill Street Tavern along historic Shem Creek. Enjoying classic dishes like shrimp and grits or try their specialty smoked meats cooked slow over cherry and Southern pecan wood. Mill Street Tavern has one of the most picturesque settings in all of Charleston, including rooftop dining, with views of local marshes, the Ravenel Bridge and boats sailing along the creek. Private holiday parties are available.
Paolos Gelato Gourmet (downtown)
Three words: Wine on tap. Paolos Gelato and Gourmet at 41 Johns Street is a gem for quality Italian wines on draft including Prosecco, Rosato, Barbera and Moltiplicano. Along with gelato, there are traditional holiday desserts such as pandoro and panettone. The cozy, well-appointed mercantile has plenty of to-go pastas, jars of bruschetta, ready-made sauces, olive oils and seasonings and even a jar of gourmet chocolate butter. It can also host small private parties and dinners.
…Don't forget dessert!
Carmella's Café and Dessert Bar (Downtown)
Sinfully delicious desserts and hot toddies are served at this popular spot on East Bay Street. This holiday season, Carmella's will showcase the hummingbird cake, a Southern specialty and one of its most requested items. It's a vanilla cake baked with pineapple, banana, coconut and walnuts topped with a cinnamon cream cheese frosting. A Ginger Hot Toddy consists of ginger-infused bourbon, local honey and lemon, perfect on a chilly evening.
Kamisky's (Downtown)
If you can't get enough sweets during the holidays, look no further than Kaminsky's on Market Street, which entices visitors with a rotating selection of delectable desserts and heaping milkshakes in a cozy atmosphere. Cakes and pies are prepared fresh daily by pastry chefs. Warm up with specialty cocktails like Irish coffee and hot buttery chocolate made with butterscotch schnapps. A crème brulee specialty martini includes Kahlua French vanilla liqueur, Irish cream, housemade caramel sauce, and a pinch of cocoa.