Tables to Top Your Season
06 Nov 2017
Whether the décor is simple, fun or mixes things up, these stores have some ideas on creating a festive table top for every holiday at home.
By MONICA KREBER » Photos by LEA AUSTEN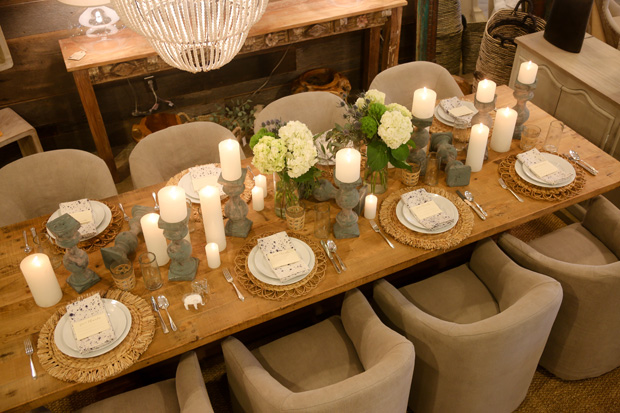 Steven Shell Living
Steven Shell Living is keeping it simple with a modest but elegant table top this holiday season. This year's design was created by Cheri Consentino and Blair Powell, the latter of whom believes the holidays are all about spending time with family and friends.
When it comes to the table top where those loved ones are going to eat a big holiday meal, Steven Shell Living opts for a taste of simplicity. "We believe the simpler the better when designing a table top," Powell says.
Their theme this year is "Coastal blue Christmas" and uses different textures and variations of greens in the tablescape. The spruced centerpiece contains ornaments in gold and blue hues, which peep out to add a splash of color. "The mercury glass and blues make it not as traditional and is transferable throughout the holidays, so not just for Christmas," Powell says. She adds that the greenery can also add depth to a tablescape—at a lower price point.
In addition to the greenery, Powell's favorite aspects of this year's design are the candles, but she encourages the "less is more" technique. "We always try to have a classic, yet casual warmth at our tables for the holidays," she says. "The use of mercury glass, which has become increasingly popular over the years, is fun to add pops of color."
Her best recommendation though is not to stress too much over buying all new décor every year. One can create a completely different table top with most of the same accent pieces, such as the candles, chargers and glassware. "There should always be some variations in height along the table. It keeps it visually appealing," she notes.
To furnish your home for the holidays, Steven Shell Living offers a variety of seasonal pieces as well as décor ranging from garlands to ornaments. "Whether you're more interested in sparkles or rustic, we will have the perfect accent to add," Powell says. stevenshellliving.com
Powell's DIY Tips:
Make nametags. "They make your guests feel appreciated and special."

Incorporate an outdoor item. "Whether it's greenery or a pine cone, small items can make a big difference."

Use candlelight. "The lighting really changes the ambiance of an entire room."
Celadon Home
The holidays are a time for family and fun—and the table designs at Celadon Home bring just that with their signature brand.
Dani Silver designed this year's tablescape with collaboration from artist Jillian Crammer, who wrote the calligraphy on their table's place cards. This year, Silver opted not to focus on one particular theme and instead created a table that is overall fun and especially inviting. For her, the holidays mean spending time with family and friends, so her creation is geared toward making something exciting for everyone. The table, she says, is "a place where everyone wants to sit for a long time and hang out together."
As Celadon prepares its holiday table for customers year after year, they tend to over-gather items, play around, edit and mix it up as the table comes together. This year's design has items from the store, mixed with seasonal flowers and greenery. Celadon's décor this season embraces neutral colors, and incorporates trending holiday merchandise.
A unique suggestion, Silver recommends mingling newer items with family heirlooms and seasonal flowers with greenery. Her advice to customers: "Don't be afraid to put lots of decorations on the table and then edit as you go. I think it's more fun when there is an array of items on the table and people are excited when they see it," says Silver. She encourages customers to incorporate their favorite items, such as crisp white China—a consistent go-to for Celadon.
Silver's favorite part of this year's design was the idea to mix up styles and create a really dynamic table. Celadon offers a number of pieces to help customers prepare their homes for the holidays and shoppers can find everything they need from serving pieces and table linens to vases, lanterns and chandeliers—even the table and chairs! celadonathome.com
Silver's DIY Tips:
Candles are a must—the more the better.

Bring the outdoors inside with flowers or greenery.

Personalize the name cards with more than just the person's name. Cards can include questions, sayings, a blessing or something fun.
Elizabeth Stuart Design
For owner Elizabeth Faith of Elizabeth Stuart Design, family always springs to mind when she thinks of the holidays, and she comes from a big family herself—one that brought chaos and excitement to the table.
Her family always tried to have a seated dinner, but with eight children who eventually started bringing their own families to the table, mealtime can mean a massive group. Like many large families, Faith's always had an "adult" table and a "children's" table. "Our tables always had flowers and felt special no matter where you were seated," she recalls.
Her objective for her table design this year was to create a fun place at which a family could sit. "I have become less serious, and more willing to bring things other than classic traditions to the table—like a bowl of tiny pieces of paper with wishes and compliments and things I love about my family," Faith says.
There is no particular theme to her holiday tablescape, but Faith says she wanted to make her design fun, whether it be for an adult table or the children's. She included bright colors and cute animals, and always adds rosemary to her table in remembrance of those no longer with us.
For her children's table, Faith opted to go with classic green and fun animal serving pieces while her adult table includes her favorite color: aubergine. That, along with her grandmother's China, brings the family close, she says.
"The tulips on the table and flowers on the serving dishes would make my mother proud," she says. Along with the rosemary, Faith considers flowers on the table mandatory. Her advice to others wanting to make their own creation is to ask themselves what they want to bring to the table. "If it has been a hard year, bring love," she says. "If it's been a good year, bring love." Mostly, Faith says, "Enjoy yourself."
ESD offers serving pieces, China, stemware, hostess gifts, flowers and garden arrangements and more to help shoppers primp their table for the holidays. esdcharleston.com
Faith's DIY Tips:
Don't be afraid to mix it up.

Use your special pieces.

Set the table the night before.