The Barbadoes Room
09 Sep 2015
In these tighter, leaner 21st century times, it's fun to err on the side of opulence now and then. And where better to do so then in one of Charleston's historic luxury hotels?
By WENDY SWAT SNYDER Photos by NICKIE CUTRONA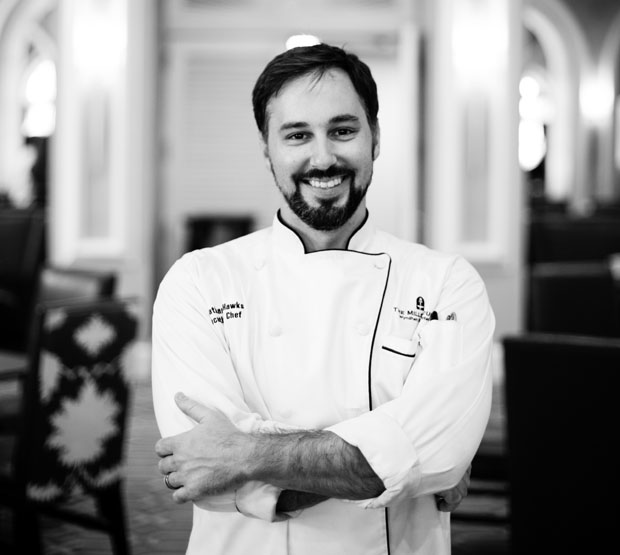 Specifically, the dining room of a grand hotel—the stately grand dame of the hospitality sector. Those were my thoughts as I readied for a midsummer meal at The Barbadoes Room. I hadn't visited this one in several years, although some of my best childhood memories are of white-cloth dinners with over-the- top service followed by a live show—one with house lights dimmed and a glamorous singer onstage, crooning standards under a bright spotlight with a smooth band playing backup.
The Mills House—home of The Barbadoes Room—has been wowing Charleston visitors since 1853. Billed then, as "the finest hotel south of New York", it hosted guests such as President Theodore Roosevelt, Princess Caroline of Monaco, Elizabeth Taylor, Paul Newman, and President Ronald Reagan over the years. The 125-room grand hotel was built by Charleston businessman Otis Mills, who chose a style in vogue in the Northeast at the time.
This historic gem still resonates with 19th century grandeur—lofty ceilings, sleek marble flooring, arched entryways, wide windows, and brass fixtures play beautifully against rosy tropical hues. A recent renovation has really made the property shine.
Add to that a new management team with a vision to make The Barbadoes Room one of the finest restaurants in the city, and you have a destination worthy of its storied past.
"We want to embrace the past," says Andy Champion, The Mills House food and beverage director, "and at the same time create our own future. We are not satisfied with being just a restaurant in a hotel."
Champion's background includes a blend of hotel and fine dining culinary experience, most recently from Charleston Grill. With a style that encourages ideas, he shares responsibilities with restaurant manager Michael Moore, executive chef Jon Hawks, and beverage director Tim Judge, all of them motivated by the same vision: remaking The Barbadoes Room dining experience "from the minute you walk in until you leave."
Gone are the buffets of bygone days, replaced by an a la carte brunch and live music on Thursdays and Sundays. While the formal dining area is being re-imagined, dining is encouraged in a spacious bar area reminiscent of Charleston's colonial past, and an adjacent courtyard beckons with soft lighting and a streaming fountain.
Chef Hawks, a Johnson & Wales graduate, brings to The Barbadoes Room a source-local sensibility and an international perspective. Driven to explore new experiences, and "in the right place at the right time," he landed the chef de cuisine position at Hotel Atitlan, a boutique resort in Panajachel, Guatemala.
Located on a lake surrounded by three volcanoes, he quickly overcame the language barrier and learned early lessons from the neighboring farmers.
"Talk about farm to table," he says with a laugh. "My second or third day there, they brought me to a field and told me they were offering goat that night—and pointed it out!"
His travels have also taken him to Spain, where he "hopped on" a job at a hotel restaurant and learned to love Spanish cuisine.
"I have a big spot in my heart for paella," he confesses. "While I was there, I rented a car and drove from coast to coast and ate paella in every town." Hawks says he took some of the techniques he learned from that experience and applied them to his new signature entree, Charleston pirlau. The classic dish is a medley of shrimp, scallops, calamari, mussels, clams, and grouper "so fresh it tastes like it was pulled from the water that morning"—baked with crab roe rice and a smattering of green peas. The flavors are bold, with just the right amount of heat, and every bite of fish, cooked perfectly.
The vegetable curry bowl is highly recommended too, and not just for vegetarians. Local vegetables such as zucchini, squash, and broccoli spiced with coconut curry, ginger, and basil are served with jasmine rice, pineapple-pepper relish, and grilled flatbread.
For appetizers: the littleneck clams are a bright citrusy preparation of charred lemon, garlic broth, creamy fingerling potatoes and bacon. Crunchy cornmeal crusted oysters are served with a toothsome hominy and andouille sausage ragout and Creole aioli—a wonderful interplay of textures and flavors. An heirloom tomato salad features local John's Island veggies served with a lemony pecan pesto that pairs well with the vibrant tomatoes and lightly charred baguette.
Hawks explains that the vision for the new culinary program blends upscale Southern cuisine with the Caribbean roots of The Barbadoes Room.
"I enjoy working with assertive, Latin flavors," he notes, "that's our mark—we have a great team, everyone is buying into the vision."
The chef also hinted at changes on the horizon for the dining room including upgrading décor functionality and instituting a chef's table program. He and beverage director Judge are also working on plans for upcoming wine dinners.
"We share the same philosophy," says Hawks. "The restaurant is bringing in local produce for Tim—he is making his own syrups and planning his cocktail menu around the seasons."
Judge got his farm to table credentials first as a general manager in Brooklyn, N.Y., working the front of house at pioneering restaurants like Robert Newton's Seersucker, and Tom Kearney's The Farm on Adderly.
"We had a farmers' market outside our door," he recalls, "and picked up fresh produce every day. We used natural sustainable products in the beverage program, and carried bar brands produced as closely as possible to the New York region—definitely a challenge, and a lot of fun."
Shortly after joining The Barbadoes Room team, Judge discovered that Jerry Thomas, the "father of mixology," had worked at the Mills House in the 1850s. To pay homage to the man he says revolutionized the craft cocktail scene, he created The Jerry Thomas Martinez—the Martinez being one of the oldest classics—using Hat Trick botanical gin from local High Wire Distillery.
"The team is in place and super focused on the same goal," says Hawks. "We're trying to change the perception among locals of the hotel-restaurant."
Honoring the past and tradition, as Champion puts it, and having fun with it.
The Barbadoes Room
115 Meeting Street, Charleston
843.577.2400
millshouse.com