The Rise of the Real Joe
07 Mar 2019
Local politician Joe Cunningham dreams of a brighter future for his children, just like the rest of us. In this exclusive interview, he shares how parenthood and his love of the ocean inspired his journey to Washington, D.C.
BY TERI ERRICO GRIFFIS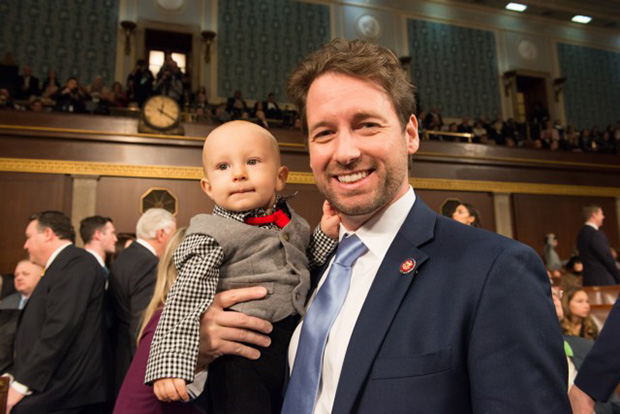 A myriad of words describe Joe Cunningham, but "relatable" is heard most often. On one hand, what else would you expect from the guy who tried to bring beer onto the House floor? On the other, it's a surprising association for a politician. Spend an hour with him, though, and you'll understand.
We met Cunningham at his home early one Saturday morning. As we were led through the gated apartment complex by the Chief of Staff to meet the recently elected member of the United States House of Representatives for South Carolina's 1st congressional district (the first Democrat in the position since 1981), we were unsure what to expect. But Cunningham swung open the door, alongside his bounding dog, Teddy, and greeted us like old friends.
The home, which he shares with his wife, Amanda, Teddy and his one-year-old son, Boone, is temporary while the family builds their new house on Johns Island. That morning, it was a happily chaotic scene. Toys scattered, lots of coffee, paperwork pushed aside until naptime. It was honest, refreshing and, well, relatable.
Family Man
Cunningham's son Boone is the "true measuring stick" of his run for office. "We did our big roll out on June 22 of 2017 and the next morning my wife woke up so sick and found out she was pregnant," Cunningham says with a laugh. "We were like, 'Well, I guess this is it!'
If life with a newborn isn't exhausting enough, add running a campaign to the schedule. The Cunninghams are finding their stride, though. "It was never a question of support," he says. "I've always supported her in her business and her dreams. So it was a conversation at the kitchen table. This is where I want to get more involved and this is where I think I can make a difference, and she said, 'Go for it.' Neither one of us knew where it would take us."
Where it's taken him is to Washington D.C., three nights a week, three weeks a month.
Cunningham grew up in Kentucky the youngest of five brothers, who he still talks to every day. He was raised by supportive and loving parents, his father a public defender-turned-prosecutor and later a Supreme Court Justice.
"My dad was always around and would tell us he just wanted us to be happy, whatever we did," Cunningham shares. "He was also proud of the fact that he never paid a cable bill, so we didn't have TV growing up. We were forced to go outside and use our imagination and play sports."
As a child, Cunningham spent his summers on the nearby lake—that is when he wasn't working. "From the very beginning, my dad instilled in us a sense of hard work. He wanted to make sure we all had jobs, and would go to local businesses and ask them if they'd like free labor. He'd pay them to pay us," says Cunningham. "I worked at a gas station picking up trash as my first job. Another brother worked at a mechanic shop, another worked at a deli. It was quintessential small-town rural America. But it was too small to want to stick around once you finished high school, which is what brought me to Charleston."
An Aquatic Adventure
With an older brother in the Maine Maritime Academy, Cunningham realized the careers he could have on the water. His math skills led him to engineering, and he found he could combine the two by studying Ocean Engineering at Florida Atlantic Universty. He graduated in 2004.
Later, he opted to pursue a law degree, a decision inspired again by family. "The town we grew up in had a maximum-security prison that my father worked in when he was on the bench," Cunningham says, "and he would walk through the courtyard without any guards. Inmates would come up to him—inmates he had prosecuted, inmates he had sentenced. And he treated all of them with dignity and respect. That had a real impression on me."
Cunningham put himself through law school where he specialized in Construction Law, and saved up money working on ships. Shortly before school started, a friend and first mate of a boat heading to the South Pacific offered Cunningham a job as deckhand. "The day before we left Amanda was hired on as a stewardess," Cunningham recalls. "We immediately hit it off and something sparked up between us somewhere between Florida and the South Pacific. I say around Panama, she says Marquesas." He laughs at the memory in such a way that you wonder how many times the couple has lovingly bantered about this. "We spent a month on the boat and I returned to go to law school. She came back about a month later and we just kept going."
The two married in 2014.
The Man He is Today
Cunningham describes Amanda as the most authentic and honest person he knows, someone who actively pursues her passions. "She loves changing people's lives and it's amazing the difference she makes," Cunningham says. A yoga instructor and business woman, Amanda owns Soul Yoga in West Ashley. She's also a real estate agent with Carolina One.
Yoga has springboarded Amanda into other ventures, including missions with Yoga Medicine, a non-profit that builds homes for children who have been rescued from child sex slavery. Volunteers reintroduce the children to society and care for them, and Amanda teaches yoga as a healthy outlet. The trip this to India she was currently on was her second with the organization.
Despite Cunningham's impending return to D.C. that Monday, Boone is never far from his mind. "I love talking about him! I find myself having to dial it back, bringing out my phone on the House floor and sharing four-minute videos of Boone sneezing. I have to realize they may not find this as entertaining as I do! It's like 'Wait for it, wait for it. Here it is!'
He continues, "Someone told me being a dad would make me a better person—and it's true. You look at things with a completely different lens. Your patience grows. You realize more than ever what's important and what's not." It's for Boone and future children that Cunningham ran for office. "It's to make his world a better one. What you see in the mainstream media isn't a reflection of who we are as a country. Being a part of the large group of freshman democrats and republicans—there are a lot of people up there trying to do the right thing."
After Boone, the district is Cunningham's second favorite topic of discussion in Washington, D.C. "All of our colleagues up there want to hear about Charleston. It's always, 'I'd love to go' or 'I went there once before and can't wait to go back.' Everyone has nothing but good things to say about it," Cunningham shares. "When you represent an area that stretches from Charleston all the way down to Hilton Head, it's a beautiful district and one you can be proud of. I talk about that a lot. It's just an incredible place."
Conversation is easy with Cunningham, no matter who you are or what the subject. It's witnessed this Saturday morning as he climbs down to the floor, in his jeans and striped socks, stacking toys with Boone and playing with his dog, while talking about Wild Olive and Low Tide brewery just as passionately as his ideas about re-energizing the country. "Amanda and I have enjoyed seeing everything from the ground up and realizing the positive difference we can make from it," he says. "I want Boone to know I was part of the change and fought hard to do the best thing for him." What parent can't relate?