Paper Covers Rock — and Walls, Too
03 May 2019
Wallpaper is making a stylish comeback and breaking tradition along the way. From bolder patterns to self-adhesive applications, you can buy and apply it yourself, start-to-finish.
By Teri Errico Griffis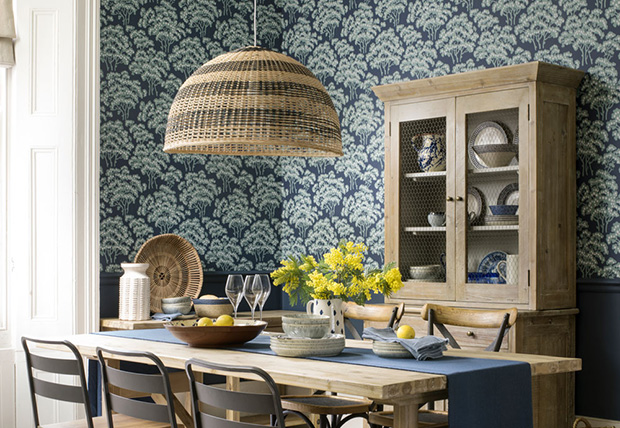 Trends tend to pop up through various iterations throughout the decades, and wallpaper is no different. Today's version is more stylish, with its bolder, eye-popping patterns, and, best of all, it's beyond simple to apply. Throw out the glue, banish the stress, and beautify your walls (or cabinets or drawers) with paper so simple and gorgeous, you'll DIY in a day.
"Wallpaper got a bad rap a while back because of the mess it took to hang and the mess it took to take down," says Sharon Payer, Interior Stylist and Owner of The Station Park Circle. "Let's not forget the commitment we'd have to make! It's come a long way and has made a comeback with self-adhesive and peel-n-stick, making it easier to hang and remove. It's very non-committal!"
Whether covering a small space, such as the four walls of a half-bath, a large accent wall in your living area or even your entire master bedroom, let your budget and level of comfort guide how much real estate you paper over.
For small spaces such as a half-bath, Payer recommends papering each wall. "In a space like this, you can afford a greater impact without being too overwhelming," she says. "In a larger space, like a master, an accent wall may be all you need for the look you're trying to achieve."
If your keen eye says to cover only an accent wall, Payer suggests you balance the other walls with artwork or a mirror that complements or reflects the paper. The key is not to let your wallpaper intimidate you.
"Let it be the focal point, and design around it. Depending on how bold your paper is, use artwork, rugs, and pillows to balance it out," Payer recommends. "If you use a botanical print on the wall, go for plaids, geometrics, ikats, or solids in your textiles. Remember, all of these elements play well together, no matter the combo, just keep them balanced. And black and white anything complement any design and act as a good neutral."
Styles that are making a splash right now include botanicals, bold graphics and paper that really makes a statement.
So what's next? Simple. Nowadays, you can find wallpaper at the bigger paint stores, online and even Target. Take it from the expert, though, and always get a sample first—especially when ordering online. As for hanging wallpaper, with today's self-adhesive and peel-n-stick types, you can easily apply it yourself. If it's a larger project or a wall requiring a lot of cuts, hiring someone might be the way to go.
"I recently finished a home office for a friend and past client of mine," Payer says, noting the client works from home—and has a youngster running around—so it was important to have her own special space. "She appreciates design and is not afraid to take chances with it, so when I mentioned wallpaper she was all in."
Together, Payer and her client chose a gorgeous, gold-embossed diamond and aqua paper and complemented it with a black, custom-painted mid-century desk, black and white photos taken by the client, and a colorful, traditional rug.
Says Payer of the papered space, "The results were stylish, modern, and they definitely made a statement."