The Spring Collection ― A Celebration of Good Tastes
06 Mar 2017
March and April arrive like skipping twins swinging baskets of snap peas with long, trailing tendrils. Cue the weddings, the wisteria and the white wine, the brunches, the baby showers and the pick-your-own-berries. We're falling in love. All over again. Let's skip into this freshly picked season with a collection of recipes sure to add verve to your table.
Text, Recipes and Photos by KIIM BYER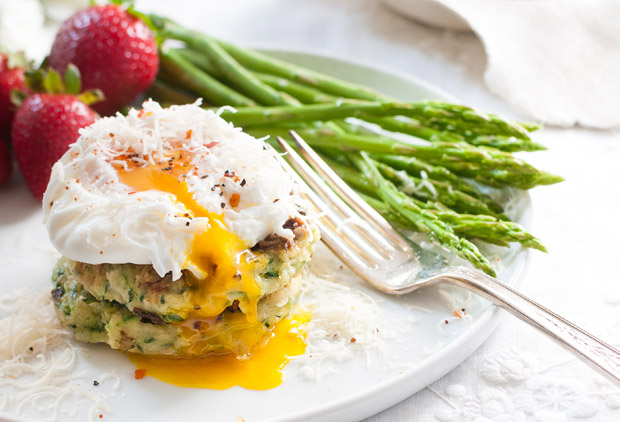 Meyer Lemon Cloud Tart with Shortbread Crust
Yields one deep-dish, 9-inch tart
2 eight-ounce blocks of cream cheese
1 cup sugar
1 cup sour cream
2 large eggs, at room temperature
1/3 cup freshly squeezed Meyer lemon juice
1 teaspoon vanilla extract
1/4 teaspoon kosher salt
1 Shortbread Crust (see below)
Confectioner's sugar for dusting
Shortbread Crust
2 cups all-purpose flour
1/2 cup powdered sugar
3/4 cup high-fat, cold, unsalted butter, cut into cubes
Preheat the oven to 325º F.
In a food processor, combine the flour, powdered sugar and butter and pulse until the mixture is the consistency of soft sand.
Press the crust mixture evenly into the bottom and up the sides of a large tart (deep 9-inch or shallow 11-inch) pan.
Combine cream cheese, sugar, sour cream, eggs, lemon juice, vanilla extract and salt in the processor and blend until smooth.
Pour the filling into the crust, and then bake until the cake is set, approximately 45 minutes. 
Refrigerate for several hours. Before serving, sprinkle confectioner's sugar over the top.
Whipped Feta with Preserved Lemons and Honey
Yields 1 cup
Preserved Lemons (prepare 3 or more days in advance)
3-6 Meyer lemons
1 cup (or less) kosher salt
2 tablespoons extra virgin olive oil
Lidded jar, 1 pint or smaller
Slice lemons into quarters, leaving them intact at one end.
Layer salt and lemons, squeezing and pressing as you go.
Finish with a layer of salt and olive oil.
Seal the jar, then gently shake. Allow to sit for up to eight hours before refrigerating.
Note: To use, remove the pulp from one slice and rinse off salt residue. Preserved lemons may be refrigerated up to six months.
Whipped Feta
8 ounce block of full-fat feta cheese (brined is good)
4 ounces cream cheese
1 tablespoon extra virgin olive oil
1 tablespoon lemon preserves, minced
Honey, for drizzling
Salt, freshly ground black pepper and cayenne pepper to taste
In a food processor or mixer, blend feta, cream cheese and olive oil until smooth.
Remove to a small bowl and stir in lemon preserves. Drizzle on honey and season to taste.
Serve with naan or pita bread.
Shaved Fennel Salad with Whole Grain Mustard and Honey Dressing
Makes 4 cups, serves 8
Whole Grain Mustard and Honey Dressing
(yields 2/3 cup)
1/3 cup extra virgin olive oil
1/4 cup white balsamic vinegar
1 tablespoon whole grain Dijon mustard
1 teaspoon honey
1/4 teaspoon kosher salt
Freshly ground pepper to taste
Add all ingredients to a small, lidded jar and shake.
Taste and adjust with additional honey, salt and/or pepper.
Shaved Fennel Salad
1 medium-sized fennel bulb (stalks removed, fronds reserved)
1/2 large seedless (English) cucumber
2-4 radishes
1 tart apple
2 dozen green grapes, quartered
1/2 cup pecans
Using a mandolin, or very sharp knife, thinly slice fennel, radishes, cucumber and apple.
Add grapes and a small amount of dressing, then toss. 
Before serving, add pecans and a few fennel fronds.
Creamy Pasta with Peas, Prosciutto & Parmesan
Serves four
8 ounces pasta of choice (spoon-sized)
4 ounces Parmesan cheese, finely grated, divided
1 tablespoon unsalted butter
1 tablespoon olive oil
1 shallot or 1/4 onion, minced
2/3 cup half-and-half
6 ounces fresh peas
12 stems of pencil-thin (or shaved) asparagus, ends snapped off at breaking point
3 ounces prosciutto, torn into bite-sized pieces
1 lemon
Coarse kosher salt and freshly ground pepper
Cook pasta in salted water, according to directions.
In a large skillet, melt butter and olive oil over medium heat. Add onion and cook until softened.
Add cream, peas and asparagus and bring to a simmer until peas are beginning to cook (about two minutes).
Remove to a large bowl, add prosciutto and half of grated cheese; toss immediately with warm, strained pasta.
Divide into servings and finish with lemon squeezes, remaining cheese, salt and pepper. Serve immediately.
Zucchini and Parmesan Fritters with Perfect Poached Eggs
Serves four
4 medium zucchini, grated (approximately 2 cups)
1 cup finely grated Parmesan cheese (plus more for topping)
1/4 cup all-purpose flour + more for coating
1 egg + 4 Poached Eggs (see below)
1/4 teaspoon salt
Olive oil, for frying
1 teaspoon white vinegar (optional— helps egg whites coagulate)
Place the grated zucchini into a medium-sized bowl, sprinkle a small amount of salt to cover, then toss. In the next few minutes, the liquid will begin to release from the zucchini.
Using a clean, cotton dishtowel or thick paper towels, squeeze all of the liquid from the zucchini.
Return the dry zucchini to the dry bowl. Stir in flour, Parmesan, one egg, and salt.
Coat the bottom of a large, heavy skillet with olive oil. Heat to medium-high.
Divide the batter into eighths and make patties; lightly dredge in a separate shallow bowl of flour.
Carefully place four patties into hot skillet. Cook each side until golden brown. When both sides are cooked, remove to a paper towel-lined plate. Repeat.
Assemble by stacking two fritters and placing a poached egg on top. Garnish with additional Parmesan.
Perfect Poached Eggs
4 very fresh, pastured, cage-free eggs
Heat a small pot with 1 1/2 inches of simmering (not boiling) water. Add vinegar and swirl the water with the metal handle of a slotted spatula.
Crack an egg into a small ramekin and gently dip the ramekin into the center of the swirling water. Then, slowly remove the ramekin, leaving the egg. The egg whites will swirl around the yolk and coagulate.
Cooking times will vary between 2 to 3 minutes, when egg whites are set. The yolk should remain liquid and spongy when touched. Remove with the slotted spatula, being careful to strain the water.
Note: Fritters may be frozen or made one day in advance and reheated. Poached eggs may be stored up to 24 hours in an ice cold bath. Simply reheat in a warm pot of water, being careful not to cook the yolk.
Vanilla Sponge Cake with Whipped Mascarpone, Jam and Berries
Yields 1 five layer, 6-inch round cake
6 eggs, room temperature and separated
1 cup sugar
1 cup unbleached cake flour, sifted
1/2 teaspoon vanilla extract
Whipped Mascarpone (see below)
Jam Sauce (see below)
1 cup of mixed berries and cherries, cleaned, pitted, and sliced
Preheat your oven to 350° F.
Line five 6-inch cake pans with parchment paper.
Separate egg whites into a large mixing bowl. Reserve yolks.
Add sugar to egg whites and beat on high until stiff peaks form. Remove to a large bowl.
Beat yolks and flavoring together until a thick, pale yellow batter forms. Fold gently into egg white meringue.
Slowly incorporate cake flour, being careful not to over mix.
Distribute evenly among pans and bake until an inserted toothpick comes out clean. Oven baking times will vary, but will generally be around 10 to 15 minutes. Do not overcook.
Allow cakes to cool, then remove from pans by sliding one side of a silicone spatula around the edges.
Cool completely before icing; may be stacked with parchment paper and refrigerated.
To assemble, place one layer on a small cake stand (or turntable), cover top with icing and berry/cherry slices. Place another layer on top. Poke holes into it and pour a small amount of jam sauce into the holes. Add icing. Repeat this alteration up to the top layer. Drizzle with jam sauce and decorate with berries, mint leaves, and unsprayed, non-toxic, and/or edible flowers.
Whipped Mascarpone
8 ounces mascarpone cheese
1/2 cup sugar
1/2 teaspoon good quality vanilla extract
2/3 cup heavy cream
Pre-chill mixing bowl for ten minutes.
Add mascarpone and sugar and beat slowly, until combined.
Add vanilla and heavy cream and whip on high until stiff peaks form, being careful not to over mix.
Jam Sauce
1/2 cup raspberry, strawberry, or cherry jam
2 tablespoons water
In a small pot, heat jam and water until combined.
Allow to cool (and thicken) before using.
Note: Assembled cake may be refrigerated for five days. Individual cake layers can be frozen for up to six months, then thawed prior to icing.