Light and Color
30 Mar 2013
Two fine-artists bring a burst of energy to King Street.
By JASON A. ZWIKER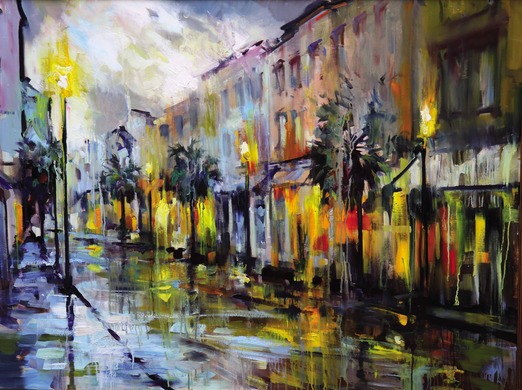 A working studio – that's what catches your eye as you walk by the window.
Rick Reinert may be in the far corner, or out in the courtyard painting en plein air if the weather's warm, and Kevin LePrince will be right there by the window. You see these two artists at work, putting paint to canvas, and you have to be at least a little bit curious.
So walk on in. That's the idea. Both of the artists are charming and conversational. Lucy, an adorable Bichon- Shih Tzu, adds just the right bon vivance to the mix.
The questions they are asked depend entirely upon who walks in the door. There may be technical questions from art enthusiasts and beginning artists about paint, brushstroke, and materials. Aspiring artists sometimes bring questions about direction, what steps to take next to better their skills. And, this being Charleston, it isn't unheard of for a world class artist to stroll in and swap secrets.
And then there are the paintings, carefully arranged on the walls, each one of them carrying a story. Rain, Just South of Wentworth, by Rick Reinert, shimmers with an almost hypnotic brilliance. It draws you in. "Rain allows you to go wild with color," Rick explains. "It allows you to use looser brushstrokes."
On the opposite side, the bird paintings and landscapes of Kevin LePrince offer a similar, but entirely different, visual experience. Softer Days has a tranquil mood that suggests peace in the here and now: a warm day by the water, perhaps. "Creeks and marshes have always been places where I spent a lot of time," he says. A nearby work, Angry Birds, shares the waterside feel, but the angle and expression of the birds suggests more crackling energy just below the surface. "I remember looking at these birds and thinking they were like kids fighting in a sandbox."
The questions could go on all day, and each new question would lead down another path. This is a place for wanderers who are in love by art, who love to browse, see the finished works, and brush elbows with the artists who created them.
"That's the reason why this is an open space," Rick says. "People can walk around or they can sit, listen to music, and watch us paint. It's meant to be very inviting and friendly."
Rick studied art at Western Kentucky University many years ago, but walked a couple other career paths before transitioning into the life of a full-time artist.
"I stopped for about 20 years. But then, one day, I was thinking things through and I decided that I wanted to go out as a painter. It took a while to get back to it. I threw out the first 30 paintings I did after that, but I stayed with it."
Before too long, he began to like what he saw on the canvas very much. That's when he began showing his work at a co-op gallery in town.
Inspired by sunlight and nature, he is an impressionist whose depictions of rainy downtown streets and sun-washed splashes of color seem to simmer with a quiet, powerful energy.
Then, one year, while showing at Piccolo Spoleto, he met Kevin LePrince, a new artist with a style very complementary to his own: intense light and deep shadow, provocative oils of wildlife and landscapes.
"Basically, our tents were next to each other," Kevin recalls. "So we started talking."
What they discovered was that they had very similar ideas for what an art gallery could be, and they were willing to put in the work to make it happen. Both of them only do originals – no prints – and they are both prolific, creating an impressive number of new paintings each year.
Like Rick's, Kevin's path to art was a less travelled one. He studied Economics at USC and worked in securities for 12 years before becoming an artist. "I was staying up late, painting constantly. I thought, if I'm going to do this, there's no better time than right now."
Along the way, when he was first trying his hand at being an artist, there were people who lent helping hands. "John Doyle saw my work and invited me to paint with him." On the course of many a weekend, Doyle took an interest in the emerging artist and helped him refine his technique.
"Later, when I was beginning to show my work and was ready to make my start as a full-time artist, word got back to John. He called me and said 'Rent a U-Haul and come by my studio. I have something for you'." Turns out, it was 87 picture frames, enough to get him up-and-running. "He said, 'This is my donation to you starting out'. I didn't have to buy another frame for a year."
In his own process, Kevin sees the first ten minutes as the most challenging. "I'm not always sure where I'm going at first, but then the painting takes over. The most important part is just picking up the brush and starting."
Persistence, for Rick, is what separates talent alone from success. "If you're going to do it, you have to commit to it. There are plenty of very talented people out there who don't finish what they start. It's a test of passion."
Reinert-LePrince Fine Art has been a fantastic experience for both artists. The simple act of being present, painting, while visitors stroll through their working studio makes it all worthwhile for them. On King Street, they are surrounded with the color and light that makes their paintings so eye-catching.
"I never have to go far to find something to paint," Rick says with a laugh. 843-793-4765, www.reinertleprince.com.